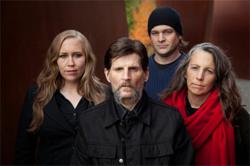 "This isn't a radical reinvention as much as it's a refinement; the backing band and its leader have never been better. You'll rarely hear four players with as much quiet command."
- pitchfork.com
Cincinnati, OH (PRWEB) August 16, 2012
Drone-metal syndicate EARTH will stop in The Ballroom at the Taft on November 15th in support of their fabulous album Angles Of Darkness, Demons Of Light II. EARTH will be joined on this leg of the tour by the thunderous two-piece Eagle Twin, and avant-garde jazz composer Stebmo.
General admission tickets, $12.00 ADV & $15.00 DOS (plus applicable fees), go on sale Friday August 24 at 10 AM at http://www.ticketmaster.com, http://www.tafttheatre.org, the Taft Theatre Box Office and all Ticketmaster outlets including select Kroger stores. Charge by phone at 1.800.745.3000.
Recorded in the same two week session as AODDOL I by Stuart Hallerman at Avast and mastered by Mell Detmer, EARTH's Angels of Darkness, Demons of Light II carries on in the freely improvised, folkloric vein of the title track from their last release. Tape was rolled and spontaneous composition occurred.
Angels of Darkness, Demons of Light II is striking in many ways, not least, in the wildly improvised nature of this particular recording. Earth's songs, Sigil of Brass and The Corascene Dog, perfectly emphasize how the interplay between the foursome becomes even more accomplished as the recording evolves, a testament to the dynamism of this particular line up. Meanwhile, the track, His Teeth Did Brightly Shine, veers further into an entirely other direction, recalling sounds of the great British Acid Folk generation. This new Earth material brings forth some highly original and deeply mesmerizing tones throughout, at times more hopeful and less dark and death oriented than previous work. Angels of Darkness, Demons of Light II is ultimately a new, completely unanticipated direction for Earth, and a very welcome one at that.
The Earth line-up, again, consists of Dylan R. Carlson on guitar and devices (including bass on the track, The Rakehell), Adrienne Davies on drums and percussion (on this release, there is more percussion of all sorts), Lori Goldston (Nirvana, David Byrne, Black Cat Orchestra, Laura Veirs) returns on cello, and Karl Blau (K Records, Laura Veirs, Microphones) plays bass. As with the first part, it again has truly amazing artwork by Stacey Rozich.
Although Eagle Twin is a very new entity its helmsman: Gentry Densley is no stranger to innovative, heavy music. Densley was the musical visionary and leader of the legendary Jazz, Prog, Rock, Metal, Hardcore group Iceburn from 1991-2001. Iceburn has been called the greatest and most important musical offering from Salt Lake City since the Osmonds! Gentrys' playing has been very influential to alot of successful modern music groups such as: Isis, Pelican, sunn 0))) etc. Although Iceburn was primarily a instrumental force with Eagle Twin Gentry is much more vocal and the depth of his lyrics is endless. His vocal evocations bring to mind the hoarse rasp of Tom Waits and Howlin Wolf but possibly channeled through Tuvan throat singers! The riffs and music definitely have familiar reference points (Caspar Brotzmann Massaker,Earth, sunn 0))), Melvins etc..) but are crafted in a way that stands miles beyond the others.
Steve Moore (aka Stebmo) is a multi-instrumentalist hailing from Seattle, WA. Known as a pianist, with a love for wurlitzers, casiotones and bells, he is also a trombonist and composer. As a studio musician and sideman, he has a resume that reads like a cult top-10 list with artists as diverse as songwriter Sufjan Stevens, jazz hero Bill Frisell and black metal mavericks sunnO))). Celebrating a sonic palette as diverse as the artists he's worked with, Steve Moore's self-titled debut album STEBMO is a breath of much needed fresh air into the jazz pantheon. The resulting nine tracks are a beautiful and truly original take on instrumental music.