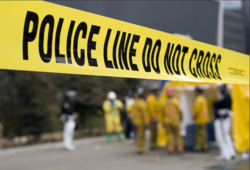 The SDPD is encouraging anyone with information regarding this incident to call the Homicide Unit at (619) 531-2293
San Diego, California (PRWEB) August 17, 2012
According to a recent news release from the San Diego Police Department (SDPD), an investigation in regards to a recent San Diego murder is ongoing and the police are requesting the public's assistance.
On July 24th two men were shot near the 100 block of West Fir Street in San Diego, California. Police officers quickly responded to a shooting report where they found two males suffering from gunshot wounds inside an apartment. The officers on duty were able to obtain suspect descriptions, as well as information about the vehicle the suspects had used, while paramedics tended to the victims' injuries.
The victims were transported to medical centers, but one (Luis Espinoza) died later that night. The other victim is still recovering from the incident.
A California Highway Patrol Officer later located the described vehicle, and two suspects, at a stop in the City of El Cahon. The suspects, Ruben Acosta, Sr. and Rodney Acosta, have been arrested for murder and booked in Jail. The location of the third suspect, as well as a motive for the shooting, is still under investigation.
John Bisnar, San Diego personal injury lawyer, is hoping to aid the search by increasing the public's awareness through available media outlets. "One man has died and another is in critical condition as a result of this tragic shooting. I hope that our press materials help get the word out and aid in the apprehension of the third suspect involved," says Mr. Bisnar.
The SDPD is encouraging anyone with information regarding this incident to call the Homicide Unit at (619) 531-2293.
About Bisnar | Chase Wrongful Death Attorneys
Bisnar | Chase is a personal injury law firm that has been assisting injury victims since 1978.
For more information about their firm, call 800-561-4887 or visit http://www.bestattorney.com
sandiego.gov/police/pdf/2012/murderwn120724.pdf