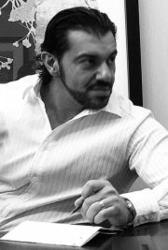 "I created each of these products for a specific reason, and they've all been highly successful," says Bedros Keuilian
Chino Hills, CA (PRWEB) August 16, 2012
Bedros Keuilian, the CEO of the highly successful fitness bootcamp franchise Fit Body Boot Camp and creator of numerous programs and products to help those who want to achieve more success as fitness trainers, has become especially known for three fitness marketing products. These are The Art of Selling Fitness, FitPro Newsletter and Close Clients and collectively they have helped over ten thousands fitness professionals grow their business.
"I created each of these products for a specific reason, and they've all been highly successful," says Bedros Keuilian, eager to share the positive outcome of each of these products. "I have testimonials and Bedros Keuilian reviews for all these products, each revealing how they have changed the lives of those who have tried them."
Bedros asks for just 21 days to show someone how The Art of Selling Fitness can transform their business and enable them to outsell their fitness pro competitors. Brett Ray, a personal trainer who has tried the course, said "my closing rate went to nearly 100%..." as a result of taking the course.
The FitPro Newsletter is an automated email marketing for personal trainers system that makes it easy to build and develop a strong and responsive email list of clients. Prior to using the system, personal trainer Greg Jasnikowski took 12 months to build an email list of just 83 subscribers. He has this to say about Bedros's program: "It's now been 4 ½ months that I've been using the list building tools provided by FitPro Newsletter and my subscriber list has grown to over 200 people."
Close Clients is focused teaching fitness trainers how to sell personal training and transforming more prospects into real clients. One of the Bedros Keuilian reviews shows that Andrew Stearns, a certified personal trainer and fitness chef, is just one of the people who have tried Close Clients with great success. On one occasion he called Bedros and said, "I just closed $40,000 in personal training in an hour and a half."
Bedros Keuilian is also keen to mention he offers a full guarantee on every product. "I offer a twelve month guarantee on The Art of Selling Fitness and Close Clients," he said. "I also offer the FitPro Newsletter on a one dollar, thirty day trial, giving everyone the opportunity to review my products risk free so they can see if it works for them. After that it's a month by month deal."
Theartofsellingfitness.com, Fitpronewsletter.com and Closeclients.com are just three of the programs created by Bedros Keuilian to assist people who want to succeed in the fitness industry. Fitness trainers can read genuine Bedros Keuilian reviews and use all these tools to help them get more clients, close more deals and earn more money. For more information on these programs, interested parties can visit the relevant websites. Alternatively go to Bedros Keuilian's main website http://ptpower.com/ to find out more information, or email support(at)keuilian(dot)com.
To find out more about Bedros Keuilian's range of products, The Art of Selling Fitness, Fit Pro Newsletter and Close Clients, call (800) 261-0208 or send an email to support(at)keuilian(dot)com.