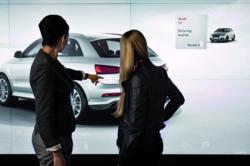 Royal Oak, Michigan (PRWEB) August 16, 2012
With the opportunities afforded by 3D visualization, RTT has opened up new paths for dealers with personalized customer contact and product interaction. A core component of the new digital Audi City showroom is the real-time configurator, which uses multitouch tablets to transfer the 3D content to realistic 1:1 scale on screens that almost fill the entire space, so-called powerwalls. Visitors can also configure their customized vehicle and view details such as the interior, materials or individual components.
"In strategic brand development, interactive content today is state-of-the-art at the point of sale. We are now in the position to show our clients through 3D visualization almost unlimited variety of combinations and give our dealers an intuitive tools at hand that enhances the product experience, "says Hans Thurner, head of Brand Innovation, AUDI AG. "With Audi City, we have expanded our technological and creative playing field and Audi has once again underlined its innovative strength, " says Roberto Schettler, board member, RTT.
With its Audi City urban store, Audi is preparing automotive retail for the future. The first site was opened in London on July 16th. The next subsidiary should follow in Beijing by the end of the year.
The computer-generated content for Audi City, over 1,000 films and approx. half a million images, as well as the 3D master model, came from RTT and were produced with the core software DeltaGen. Virtual reality was produced at the first site of this kind using especially developed interaction and projection technologies, in close co-operation with the Audi City project team and the project partners.
Since 2008, the Ingolstadt-based automobile manufacturer has been reinforcing its marketing strategy jointly with RTT, so that numerous synergies from the implementation of the real-time configurators could be used, which are already in service in Audi showrooms throughout the world.