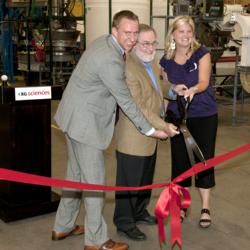 At 80 tons of annual production, XG Sciences has the world's largest capacity for this type of nano-material.
Lansing, MI (PRWEB) August 18, 2012
XG Sciences, Inc., a manufacturer of xGnP® graphene nanoplatelets and related materials, held a Grand Opening ceremony on Thursday, August 16, 2012 to commemorate the start of production in its new combined headquarters and manufacturing facility in Delhi Township, near Lansing, MI.
The ceremony was accompanied by an open house for neighbors, investors and customers.
Stuart Goodrich, the Delhi Township Supervisor, said, "Delhi Township is proud to welcome XG Sciences to the Delhi community. Their continued success in the region not only helps Delhi Township but also our surrounding communities and the State of Michigan by creating high-tech jobs and global leadership."
"We've come a long way during the past five years," said Mike Knox, CEO. "At 80 tons of annual production capacity, the world's largest for this type of nano-material, we are positioned to take advantage of the fast-expanding market for graphene-based products. Our commercial pricing is the best in the world and is competitive with other types of carbon materials. Our customers can now move ahead with product introductions, knowing that our capacity and network of global partners will keep their supply chain secure. We hope we will need to expand our capacity again in the near future."
XG Sciences, Inc., a private company headquartered in Lansing, MI, manufactures a type of advanced nanomaterial, called xGnP® Graphene Nanoplatelets. This is a high-purity material, produced by proprietary low cost processing methods, which can be used to improve the performance of batteries and capacitors, printed electronics, coatings, and plastic structural components. XG Sciences is a spin-off from Michigan State University. Its corporate investors include Hanwha Chemical Corporation of Korea and POSCO, a global steelmaking and advanced materials company. For more information, visit: http://www.xgsciences.com.