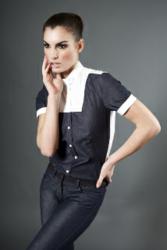 London (PRWEB UK) 17 August 2012
High-end brands, including Gucci and Chanel, have utilised the popularity of the equestrian style designs to create collections solely dedicated to equestrianism and riders. The emergence of high-end fashion brands using equestrian inspired designs has filtered down to the high street, resulting in a widespread boost in the popularity of equestrian and country fashion.
Within it's own sector, equestrian brands have shifted their designs to appeal to the fashion conscious, while remaining true to the functionality of traditional equestrian clothing. A number of labels have been seen to produce chic, modern designs in-keeping with this current trend. Quality equestrian designer brand Cavalleria Toscana, have seen the demand for their prestigious products span globally. Cavalleria Toscana is an Italian brand that supplies tailored equestrian clothing, combining classic designs and high-tech materials whose collections create a fashionable, wearable riding wardrobe.
Four Seasons Equestrian – the only UK distributor of Cavalleria Toscana have utilised Graphic Evidence's knowledge and experience of the equestrian sector throughout a number of projects. Web design company, Graphic Evidence have undertaken projects including e-commerce website design, stand graphics and printed marketing literature. Graphic Evidence is also responsible for the ongoing PR for this atelier-style fashion showroom. Alongside Cavalleria Toscana, Four Seasons Equestrian is also the only UK distributor of the prestigious Tonino Lamborghini collections. Graphic Evidence have assisted Four Season equestrian in boosting thei products in the eyes of the equestrian sector and media.
Branding agency, Graphic Evidence, offer a range of services including, website design, branding, packaging design and public relations.