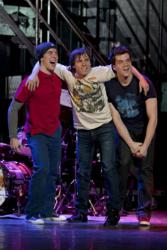 Since its inception, audiences have been surprised by the emotional journey the show takes them on, told almost exclusively through Green Day's songs, including many they are already familiar with and love.
Worcester, MA (PRWEB) August 22, 2012
The Hanover Theatre for the Performing Arts announced that single tickets for the national tour of the explosive Broadway hit AMERICAN IDIOT, called "wonderfully raucous" and "emotionally charged" by the New York Times, are on sale now to members of The Hanover Theatre before going on sale to the public on Friday, September 14 at 10am. AMERICAN IDIOT will take center stage on Friday, February 1 at 8pm, Saturday, February 2 at 2pm and 8pm and Sunday, February 3 at 1pm and 6:30pm.
AMERICAN IDIOT, a 2010 Tony Award®-nominated Best Musical and 2010 Grammy Award winner for Best Musical Show Album, features the music of Green Day with the lyrics of its lead singer Billie Joe Armstrong. The book is by Armstrong and Michael Mayer and direction is by Tony Award®-winner Mayer ("Spring Awakening.")
Nominated for three Tony Awards, AMERICAN IDIOT is the story of three boyhood friends, each searching for meaning in a post 9-11 world. Through incredible spectacle, thrilling performances and with the hope embodied by a new generation, AMERICAN IDIOT has given Broadway audiences the time of their lives night after night since the musical began performances at the St. James Theatre in March 2010.
"Since its inception, audiences have been surprised by the emotional journey the show takes them on, told almost exclusively through Green Day's songs, including many they are already familiar with and love," said Tom Hulce, producer. "This is such a potent time for our country and the search of our characters for what to believe in is gorgeously celebrated through Billie Joe and Green Day's wonderfully lush score," he added.
The musical features the hits "Boulevard of Broken Dreams," "21 Guns," "Wake Me Up When September Ends," "Holiday" and the blockbuster title track "American Idiot" from Green Day's 2004 Grammy Award-winning, multi-platinum album. Also included in the score are several songs from Green Day's 2009 release "21st Century Breakdown," and an unreleased love song, "When It's Time."
Ticket prices are $35, $45, $55 and $65 with a 10% discount available for members of The Hanover Theatre, groups of 15 or more and WOO Card holders. A 15% discount is available for groups of 50 or more. Tickets are available online at TheHanoverTheatre.org by phone at 877.571.SHOW (7469) or at The Hanover Theatre Box Office located at 2 Southbridge Street in downtown Worcester.
Tickets for AMERICAN IDIOT are also available as part of a six show Broadway Series Subscription Package, including MARY POPPINS, WEST SIDE STORY, EXPERIENCE THE BEATLES WITH RAIN, LES MISÉRABLES and THE ADDAMS FAMILY. Subscribe by August 27 to receive the best seats available for MARY POPPINS and you'll also receive a Basic Membership, a complimentary parking pass and a variety of benefits from cultural partners, restaurants and other businesses throughout Worcester County. Plus, subscribers save an additional 15% on new Broadway tours and more, including CHICAGO, DISNEY'S BEAUTY AND THE BEAST, SANDY HACKETT'S RAT PACK SHOW, LORD OF THE DANCE and STOMP.
About The Hanover Theatre
The Hanover Theatre for the Performing Arts, located in downtown Worcester, New England's second largest city, is recognized by Pollstar as one of the Top 50 Theatres in the World. After undergoing many name changes and renovations over the decades since its 1926 birth, The Hanover Theatre reopened in March 2008 following a $32 million historic restoration. Since then, the theatre has established its place as a rich entertainment and cultural venue, winning numerous awards, including The National Trust for Historic Preservation Award in 2010. Now in its fifth season, The Hanover Theatre continues to expose over 170,000 annual patrons to world-class entertainment in the form of Broadway, concerts, comedians and much more. For more information, visit TheHanoverTheatre.org. Worcester Center for the Performing Arts, a registered not-for-profit 501(c)(3) organization, owns and operates The Hanover Theatre for the Performing Arts. All donations are tax deductible to the fullest extent allowed by law.