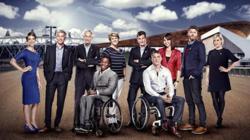 From the pressure of the heats to the drama and excitement of the finals, Channel 4 will bring you closer to the competitors as they bid for Paralympic glory
(PRWEB) August 16, 2012
Channel 4 is promising to surprise and inspire during its broadcasts of the London 2012 Paralympic Games.
With programmes beginning at 7am every day and running through until late night, the Games will dominate the Channel 4 output.
Things begin with the Breakfast Show until 9.15am, with Kelly Cates and Rick Edwards covering all the great moments of the Games.
There will be live reports from the main venues, analysis of the triumphs and heartbreak - and close-up features of the lives of the superhumans we will all be watching.
The Breakfast Roadshow is trekking across the country every morning shining a light on the home-town unsung heroes who have helped the athletes achieve their dreams.
Coverage of the action-packed morning sessions will be hosted by Jonathan Edwards and Daraine Mulvihill, with Athletics, Swimming, Equestrian and Table Tennis among the sports on offer.
From the pressure of the heats to the drama and excitement of the finals, Channel 4 will bring you closer to the competitors as they bid for Paralympic glory.
Arthur Williams and Georgie Bingham will present comprehensive coverage of the afternoon actionwhere the focus will be on cycling and equestrian events alongside team sports like Wheelchair Basketball, Wheelchair Rugby and 5-a-side and 7-a-side Football.
At 5.30pm every evening the focus switches to the Aquatics Centre where the world's Paralympic swimmers will go for gold, while there will be athletics action and team sports such as Wheelchair Basketball and Sitting Volleyball.
Clare Balding and Ade Adepitan will present the best of the action from teatime all the way through the evening peak hours.
Into the evening, an alternative review of each day at the London 2012 Paralympic Games comes courtesy of The Last Leg with Adam Hills.
The show will look back at the best of the action, and Adam will be joined each night by eagle-eyed sidekick Josh Widdicombe, as well as guests from the worlds of sport and entertainment.
They will pore over the golden moments, confront some of the widely held views associated with Paralympic sport - and answer those questions you were always afraid to ask.