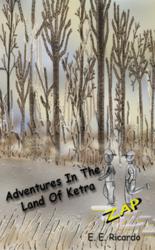 With children's interest in computers and emersion in technology today, there is a struggle to instill in them a desire to learn through reading, not just catchy videos and flashy games
Baton Rouge, LA (PRWEB) August 20, 2012
Battling the five-minute attention spans and on-the-go lifestyle of today, teachers face the increasingly difficult task of schooling children in an effective and thorough manner.
Even with the support of textbooks and years of experience, the best instructor can struggle to find new ways of teaching complex subjects, especially when each student learns differently.
E. E. Ricardo's book, "Adventures in the Land of Ketra" (published by AuthorHouse), shares the benefits of reading paired with an 'ed-tech' mindset to spur children's imaginations, hone their moral compasses, and develop lasting friendships with others. Her story uses modern technology to demonstrate skills that have lasted through the years.
"With children's interest in computers and emersion in technology today, there is a struggle to instill in them a desire to learn through reading, not just catchy videos and flashy games, " Ricardo says. "It is my hope to encourage students to pick up a book and read a little everyday."
Teachers and parents are always looking for new ways to keep kids interested in literature and teach them good behavior. Ricardo's book brings the best of both worlds, tying in children's interest with computers and technology with life-long morals.
"Adventures in the Land of Ketra"
By E. E. Ricardo
ISBN: 978-1-4389-1406-0
Available at Amazon, Barnes and Noble, and AuthorHouse.
About the author:
E. E. Ricardo is a former elementary school educator with experience in teaching reading, language arts, math, and computer technology. Ricardo is an avid reader and enjoys traveling, shopping, writing, and playing the piano. Currently residing in the South, she is also active in her church, social, professional, and civic organizations and is very involved with family.
Learn more about the author and her book at: http://eericardo.authorsxpress.com/
####
**FOR IMMEDIATE RELEASE**
EDITORS: For review copies or interview questions, contact:
Dassie Rice
317-602-7137 | drice(at)bohlsengroup(dot)com
(When requesting a review copy, please provide a street address.)