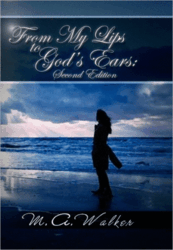 Because of the atrocity I experienced at the hands of someone I knew and trusted, my life as I knew it was totally shattered and destroyed
Halifax, Nova Scotia (PRWEB) August 20, 2012
Less than 2 percent of acquaintance rape victims report their assault whereas 21 percent of women raped by strangers report the crime to police, according to the Illinois Coalition Against Sexual Assault.
M. A. Walker has struggled her whole life to over come the stigma of her own experience with sexual assault. In her debut book, "From My Lips to God's Ears" (published by Xlibris), Walker has now set out to help other rape victims find their voice too.
"Initially I wrote the book as a self-help tool with no intentions of publishing it. However, on the advice of others, my story and I have followed a very different path," Walker explains.
In her early teens, Walker was raped in her own home by her boyfriend's best friend. The vicious attack caused Walker to feel a sense of guilt and responsibility. Afraid of bringing disgrace and embarrassment to her family, Walker kept silent about her rape for 37 years.
"Mine is the story shared by too many others, one of cruelty and total disregard for a young girl's life. Because of the atrocity I experienced at the hands of someone I knew and trusted, my life as I knew it was totally shattered and destroyed," says Walker.
Emotionally tired and desperate for support, Walker decided she must seek professional help to deal with the trauma and negative long-term effects caused by the years of silence about her abuse. Under the supervision her psychiatrist, Walker began the long and difficult process of healing.
"I have always felt I was destined to live my life as an advocate for victims of social injustices," says Walker. "I want to help other rape victims so they can find the courage to overcome their victim mentality and once again take control of their lives."
"From My Lips to God's Ears"
By M. A. Walker
ISBN: 978-1-45685-667-0
Available at http://www.amazon.com, http://www.barnesandnoble.com, and http://www.xlibris.com.
About the author:
M. A. Walker was born in Nova Scotia and spent 21 years working in the human services and health-care sectors before returning to college to pursue her studies in business administration with a concentration in marketing. Graduating in 2010 from Nova Scotia Community College, Walker now focuses on advocacy for social injustice with the publication of her debut book, "From My Lips to God's Ears."
Learn more about M.A. Walker and her book at: http://www.frommylipstogodsears.com
EDITORS: For review copies or interview questions, contact:
Dassie Rice
317-602-7137| drice(at)bohlsengroup(dot)com
(When requesting a review copy, please provide a street address.)