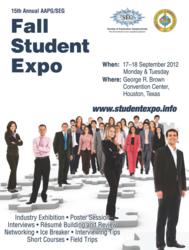 (PRWEB) August 16, 2012
The Student Expo events are designed to link geosciences students with industry recruiters. Students benefit from networking, sharing their résumé, presenting their research and having the opportunity to meet with several potential employers.
Companies get a cost-effective way to recruit from a diverse and talented student population.
Activities at each event vary but generally include:
Job interviews.
Open poster sessions.
Icebreaker reception.
Field trip and short course option.
Upcoming Expo or Career Fair events include:
AAPG/SEG Student Expo in Houston, TX September 17-18.
http://www.studentexpo.info
Rocky Mountain Rendezvous in Laramie, Wyoming September 21-24.
http://geology.uwyo.edu/rmr
Student Job Quest in Cleveland, Ohio September 22-26.
http://www.esaapg2012.org
AAPG/SEG West Coast Student Expo in Northridge, California October 11-13
http://www.csun.edu/geology/aapg-seg.htm