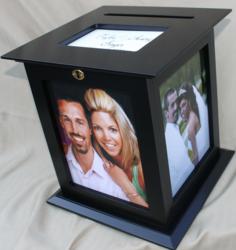 "Approximately 80% of wedding guests now bring a card with money instead of a wrapped gift"
Brighton, MI (PRWEB) August 21, 2012
Take a notch out of the average cost of weddings in 2012 with a huge August sale. According to Wedding Stats.Org, the average wedding costs now top $26,000 not including the honeymoon. It is no surprise that wedding couples are looking for ways to save a few dollars and yet keep their special day extraordinary. One of the ways couples are saving money is by purchasing items that can be used more than once and are not just for weddings. Kelly Marie Collections offering The Perfect Card Box®, a photo holding wedding card box that can be used at other special events and can also be used in the home as a wedding keepsake box following the big day.
According to Wedding Stats approximately 80% of wedding guests now bring a card with money as the wedding gift instead of an actual wrapped gift. The Perfect Card Box is happy to offer huge savings to help bring down the average wedding costs for wedding couples today. The locking card box offered by The Perfect Card Box® solves more than just the issue of where to put the greeting cards brought by wedding guests it also keeps them safe and in one place under lock and key it is also on sale until the end of the month.
The Frugal Panda offers some other suggestions for saving a few dollars on your wedding.
Shop for Samples: It's commonplace for bridal shops to have sales to clear out their remaining stock of each year's wedding dresses in a sample sale.
Borrow from Friends and Relatives: Make your wedding ensemble more special by wearing items you've borrowed from family and friends. Wearing special jewelry, veils, or for men, cufflinks, and give your outfit a more personal and meaningful touch.
Share Costs: Check with the venue of your wedding to see if there are any other weddings that day. If there are, try checking with the other brides and grooms to see if you can possibly share some of the decoration costs.
Use Non-traditional Items: Get creative with your decorations and let them personalize your wedding. Try using potted houseplants or plain pillar candles as decorations. They can be less expensive than flowers and can be reused or sold at a yard sale after the wedding.
Wedding couples are getting creative and making better choices for how and where to spend their money. Kelly Marie Collections and The Perfect Card Box® bringing savings wedding couples with everything on sale through the end of the month.
Kelly Marie Collections and The Perfect Card Box® offering a patented wedding card box to the wedding industry. Their products can be found at http://www.theperfectcardbox.com