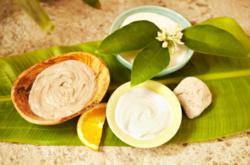 San Francisco, CA (PRWEB) August 18, 2012
Zion Health, the leading manufacturer of natural clay body care products announces an innovative home remedy for adult acne and unhealthy skin; ClayMask Deep Pore Cleanser is now available at natural grocer Whole Foods Market in Tarzana and Woodland Hills, CA. ClayMask's active ingredient includes a high-grade mineral enriched clay; pure Calcium Montmorillonite that is well known to detoxify the skin and enhance cellular activity.
Native Indian and African tribes have long used different types of clay remedies to heal the skin and internal body. More recently, researchers at Arizona State University have shown keen bactericidal activity in similar smectite clays against highly resistant bacterial strains. ClayMask's active ingredient; pure Calcium Montmorillonite clay also known as Kanwa has been scientifically analyzed to contain more than 57 trace minerals producing a natural magnetic charge that activates cellular energy and detoxifies the skin.
The antiseptic properties of Kanwa clay make it ideal for reducing pore-clogging bacteria while its negative ionic charge draws impurities from the skin. Zion's ClayMask cleanses the skin using electrostatic clay without stripping it of its natural oils. ClayMask includes natural sea kelp. Sea Kelp is a longtime staple of the Japanese diet and skin care regimen powered with vitamin K, B vitamins and minerals like iodine, magnesium and calcium.
Zion Health's ClayMask is a toxin-free, plant-based face mask that is well known to detoxify the skin and restore nutrients to sagging tissues. ClayMask is now available at Whole Foods Market in Tarzana and Woodland Hills, CA. Whole Foods Market is a leading grocer of the finest natural and organic foods and personal care products. They are committed to supporting local and organic agriculture and providing eco-conscious products.
Zion Health Products are available online at http://www.kanwaminerals.com and Health Food Markets and Co-ops throughout the U.S. and Canada. Zion provides its consumers with pure skin and body care products that are 100% vegan, free of parabens, aluminum and formulated using certified organic ingredients whenever possible. For more information on Zion Health products, go to: http://www.zionhealth.net.