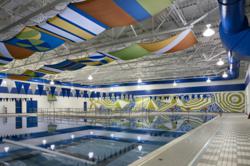 Like many of the amenities and services offered here, our fitness and aquatics center redefine the expectations for what the retirement lifestyle can be.
Lancaster, PA (PRWEB) August 16, 2012
Willow Valley Retirement Communities has just completed a significant renovation of its fitness and aquatics center, including a bevy of new equipment and technology. The additions combine top-of-the-line equipment from leading brands like Cybex and LifeFitness with new interactive technology to make working out more immersive, more effective, and more fun for Residents.
"Like many of the amenities and services offered here, our fitness and aquatics center redefine the expectations for what the retirement lifestyle can be," says Rosanne Macrina, Manager of Marketing and Public Relations for Willow Valley Retirement Communities.
The overhauled aquatics center includes three pools, including a full-sized 6-lane lap pool, a heated therapy pool, and a whirlpool spa. The aquatics center offers a variety of options for low-impact therapeutic exercises, high-intensity cardio and strength training, or even just a fun game of water volleyball.
Another key addition to the new fitness center is the InBody machine, which uses high-tech sensors to help residents set up personal fitness goals, tailor workouts, and evaluate progress. Fitness coordinators are excited to put the new diagnostic tools to work, knowing that they'll be able to give more personalized suggestions to residents who want to improve their overall health.
The cardio machines have received a major upgrade as well, with the addition of Cybex Arc Trainers, brand new recumbent elliptical trainers from LifeFitness, and a piece of space-age technology in the brand new Power Plate machine. Designed originally for use by astronauts living in zero-gravity environments, the Power Plate leverages the body's natural response to rapid vibration to build up atrophied muscle tissue.
The newest wave of workout technology and amenities were hand selected by Willow Valley's expert fitness coordinators and trainers to help residents enjoy a workout that is more effective and more engaging. The fitness and aquatics center, like the overall Willow Valley environment, is designed so that Residents can be as independent and vibrant as possible and can live a relatively carefree lifestyle.
About Willow Valley Retirement Communities
Willow Valley Retirement Communities, founded in 1984, is located just five miles south of Lancaster in south-central Pennsylvania. Its latest expansion is Providence Park at Willow Valley. A not-for-profit, independently operated continuing care retirement community (CCRC), it is nationally recognized as a retirement destination welcoming Residents who have relocated from 37 states.
As a premier Lifecare community, Willow Valley offers a Lifecare Agreement that provides long-term care at a predictable cost, with no increase of fees for a higher level of care. Financial performance is affirmed by Standard and Poor, Fitch "A" Category ratings, and CARF-CCAC accreditation. Residences at WVRC range from 800 to 3,200 square feet. Community features include an 80,000-square-foot Cultural Center, several scenic ponds, and expansive manicured courtyards with large outdoor fire-pit features. The National Association of Home Builders conferred Gold Achievement Awards to WVRC for Best Dining Experience and Best Lifestyle Programs in 2012. For more information, call 800.770.5445 or visit willowvalleyretirement.org or learn about its latest expansion at providenceparkliving.com.