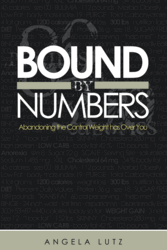 Our society is obsessed by numbers, rules and strict diet plans, all so we can fit into the 'accepted' body image, size and look
Columbus, OH (PRWEB) August 20, 2012
In the United States alone, approx. 10 million females and 1 million males are battling an eating disorder such as anorexia or bulimia, reports the National Eating Disorders Association.
Further, almost 41 million women and more than 37 million men were reported obese in 2009-2010, says the CDC.
And that doesn't even account for the number of people suffering from negative body image or an unhealthy lifestyle, conditions much harder to measure. In essence, these stats point to one fact: Distorted body image is a thriving epidemic.
Angela Lutz, a recovered anorexic-turned-holistic lifestyle coach, is out to reduce those statistics drastically with a call to 'break free of the numbers that bind us.' Her new book, "Bound by Numbers" (published by WestBow Press), is a thoughtful approach to healthy living that guides readers to quit the numbers game once and for all.
"Our society is obsessed by numbers, rules and strict diet plans, all so we can fit into the 'accepted' body image, size and look," says Lutz. "This obsession has only led to a society of people suffering from negative body images and beliefs. Once we can break free from that obsession, we're finally allowed to live a healthy, happy life."
Contrary to advice offered up by numerous trainers, books and magazines, Lutz's approach to a healthy lifestyle isn't bound by numbers: Meaning no counting the number of reps; frequency of working out; quantity of calories, fat grams or carbohydrates; or how much time between meals, as well as stepping off the scale once and for all.
"Often, a person suffering from disorderly eating or a negative body image is also suffering from some type of underlying root issue(s)," Lutz says. "By showing them how to break free from the bondage of control and step into the freedom of self-acceptance and love, the body has no choice but to line up and shape its way back to truth – the way we were always intended to be before distorted belief systems made themselves at home in our bodies."
"Bound by Numbers: Abandoning the Control Weight Has Over You"
By Angela Lutz
Retail price: $28.99
ISBN: 978-1-4497-4097-9
Available at http://www.amazon.com.
About the author
Angela Lutz has worked more than a decade in the health and fitness industry, achieving numerous personal training certifications and a certificate in Holistic Lifestyle and Nutritional Coaching. She currently owns a gym in Sunbury, Ohio with her husband and resides there as well with their two children. "Bound by Numbers" is her first book.
EDITORS: For review copies or interview requests, contact:
Hannah Shaner
317-602-7137 x2054
hshaner(at)bohlsengroup(dot)com
(When requesting a review copy, please provide a street address.)