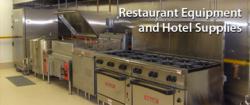 Deerfield Beach, FL (PRWEB) August 20, 2012
Hotel Restaurant Supply has unveiled its new HRS Club, which is available to the public, for free, in order to be able to provide special members-only pricing at a discounted rate.
The club provides instant access to the guaranteed lowest prices, which can only be seen by members. Membership also eliminates the need to call for pricing information, as it will be provided directly on the website.
Beyond discounts, Hotel Restaurant Supply also provides flexibility in terms of payment options. Though products and restaurant supplies and equipment can be bought outright, financing options are also available, as well as leasing opportunities for equipment. HRS financing is provided in the form of a business cash advance, through Charge Card Funding LLC.
This financing provides funds not only for purchasing from HRS, but also to cover other vital business areas, such as building inventory, expanding the company, to support healthy cash flow, to make overdue payments, to create or to increase a marketing budget. A Charge Card Funding business cash advance is quick and easy, with transactions completed in as little as 72 hours. This provides a direct and hassle-free alternative to having to obtain a loan from a bank. This unsecured business financing is unique, designed specifically for companies in the retail, restaurant, hotel, legal, medical, service, franchise, online, and other industries.
Financing through HRS is not a loan, but is a business cash advance for buying future credit card receivables. This unsecured cash is available in amounts as low as $500 or as high as $500,000, with no personal guarantee, no collateral needed, and funds availability within an average period of 3 to 5 days. Its automated paybacks allow for flexibility without the need for a stressful payments schedule set in stone. A tax return is not required, and poor credit will not negate this opportunity.
The application form can be completed on the Hotel Restaurant Supply website, or it can be downloaded and returned via email, fax, or mail. Receiving a quote is absolutely free. Moreover, the professional service team will be more than happy to provide guidance and information, as well as to answer any questions about this service.
For more information about financing, visit http://www.hotelrestaurantsupply.com/financing.html, or to learn about the full range of available food service and beverage dispensing products, and about Hotel Restaurant Supply, visit the official company website at : http://www.hotelrestaurantsupply.com