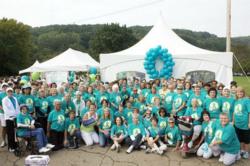 "The Walk to Break the Silence on Ovarian Cancer brings the community together to demonstrate that ovarian cancer is more than a woman's disease."
Pittsburgh, Pa (PRWEB) August 17, 2012
The Pittsburgh Chapter of the National Ovarian Cancer Coalition will hold its 12th Annual "Walk to Break the Silence on Ovarian Cancer" on Sunday, September 9, at the North Park Boathouse to raise awareness of ovarian cancer, celebrate ovarian cancer survivors, and remember those lost to the disease. All walk proceeds fund education and awareness as well as quality of life programs on both a local and national level. Over 3,500 people are expected to attend the walk.
"The Walk to Break the Silence on Ovarian Cancer brings the community together to demonstrate that ovarian cancer is more than a woman's disease," said Mary Urban, Pittsburgh Chapter Manager. "We see family, friends, co-workers and the medical community gathering at the Walk to honor of the women in their lives who suffered from ovarian cancer. The Walk also serves as an opportunity for all who attend to learn how to be their own health advocate."
Event day festivities include family friendly activities such as face painting, arts and crafts, cookie decorating and games. Survivors and women in treatment for ovarian cancer will enjoy a special continental breakfast and free raffle. The walk is also dog friendly with the return of the Canine Corner to promote stress reduction, companionship and compassion. Health and wellness experts will be available for screenings and questions. Family and friends can bring a photo of a loved one lost to this disease to display on the Wall of Courage at the Memory Tent. Handcrafted wares made by local artists will be sold on site in addition to silent and Chinese auctions with proceeds going to NOCC.
Pre-registration runs until September 4, 2012 online at nocc.kintera.org/Pittsburgh. The fee is $25 for adults, $15 for survivors and $15 for children 17 and under. Adults will pay $30 for on-site registration the day of the event beginning at 8 am. The 1mile/5 mile walk will step off at 10 a.m. and will attract more than 3,000 participants. All on-site activities close at noon.
About the National Ovarian Cancer Coalition:
The Mission of the National Ovarian Cancer Coalition (NOCC) is to raise awareness and promote education about ovarian cancer. The Coalition is committed to improving the survival rate and quality of life for women with ovarian cancer. For more information, visit http://www.ovarian.org.