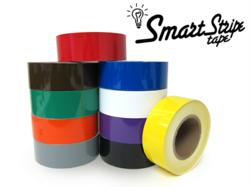 "My employee safety days has increased by using 5s training guide."
Lake Oswego, OR (PRWEB) August 18, 2012
Accidents will be greatly reduced and everyone will be safe by using the new innovative Smart Stripe 5s floor markings now available by Creative Safety Supply. A special industrial-grade floor tape will now alert workers where they are and will caution workers of potential hazard areas. Painted lines that can crack, peel and disappear over time is the old way of creating work zones. Get into the 21st century and join others that agree, paint is out and floor marking tape is in. No more paint fumes to deal with. No more paint drying time that can disrupt the workday. 5s floor marking tape is the new way to create important routes through factory and warehouse facilities.
Mark areas by using floor marking tape to promote organization and safety in the work area. Floor marking tape can also be written on with normal permanent markers and is resistant to aging, sun, water, fungus, bacteria, oil, acids and corrosive chemicals. The tape is available in 10 solid colors and 4 hazard striped options. What a great way to color code tools and workstations.
Jump start organization at the workplace by learning the tools through Creative Safety Supply 5s management system. Efficiency and high productivity is what a workplace requires to make a business successful. The lessons learned are better planning by setting goals and steps to reduce waste reduction, increase efficiency, and improve product quality and employee satisfaction. The system identifies and organizes 5 distinct steps to build a high top organized and efficient factory. And the bonus is an overall improvement in safety and health among the workplace. Per Joe Hansen, "My employee safety days has increased by using 5s training guide."
The new buzz word among the workplace is floor marking tape and 5s training to turn your workplace into a smooth, efficient and safety work environment. Get into the 21st century by visiting http://www.creativesafetysupply.com for complete information about these products. Don't forget to get the FREE 5s Guide when visiting Creative Safety Supply.