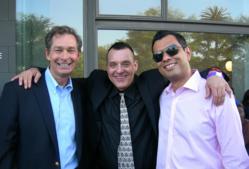 Los Angeles, California (PRWEB) August 17, 2012
Bruce Traney, Esq., the founder of Los Angeles Trial Lawyers Charities ("TLC") attended the Thundersoul Jazz Night at the Broad Stage in Santa Monica to present a check for $7,500.00 to the Youth Mentoring Connection ("YMC"). Also attending to on behalf of TLC, was Jubin Sharifi, Esq., of the Sharifi Firm, PLC, along with a number of other TLC members
Sharifi and Traney are two prominent Los Angeles attorneys who, along with the many lawyers who are members of TLC, have dedicated their professional lives to representing individuals who are often times marginalized by their circumstance and yet require legal service when they are injured or hurt. Thus, attorneys like Sharifi, Traney and others like them, are there to help these people when a need arises
With TLC an organization that is comprised of attorneys who serve their injured clients in the legal system and the courtroom, the connection to the Los Angeles community doesn't stop there. As Sharifi and Traney noted: "When TLC and its members first learned of YMC, we were all very moved and highly sympathetic to its vision of building a community where young people are seen and not just watched [and so] YMC has been a group that TLC has proudly supported for many years now."
The Thundersoul Jazz Night was co-sponsored by HBO and TLC on behalf of YMC. Its purpose was to showcase the importance that mentoring contributes in the long-run development of a child and which is so critical and important in contributing to their growth into solid, productive adults and citizens. To highlight this point, Oscar winning host, Jamie Foxx, presented attendees with a special screening of the mentor-celebrating film, Thundersoul which was directed by Mark Landsman and executive produced by Foxx. Guests included many major Hollywood stars, such as Tom Sizemore, who were also treated to live jazz music performed by The Harmony Group, a Los Angeles based group dedicated to empowering the lives of inner-city youth.
Finally, and from the perspective of Traney, Sharifi and TLC and its many members, the event was another success in a long line that TLC has supported.
To learn more about Los Angeles Trial Lawyers Charities, visit, http://www.latlc.org. To contact Jubin Sharifi, Esq., visit http://www.sharififirm.com or http://www.attorneypersonalinjurylaw.com. Jubin Sharifi, Esq. handles serious injury cases, resulting from auto accidents, motorcycle accidents, pedestrian accidents and wrongful death cases.