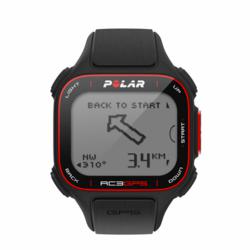 ....now you don't have to choose between the highest quality heart rate data and GPS
Bozeman, MT (PRWEB) August 16, 2012
Polar RC3 is a new integrated GPS watch but it was misunderstood in some of its initial blog reviews according to the Heart Rate Watch Company. Why? The bloggers had prototypes that had not yet been engineered to be fully sealed.
"In reality this watch is IPX7 (3 feet of water for up to 30 minutes) but a lot of blog testers got prototype models that were not yet sealed and likely misjudged this watch", says Rusty Squire, President of the Heart Rate Watch Company. He says, "This is why we pay for the product and judge it after the fact with real world-class athletes that test it for months; it is less likely you get it wrong that way and there is no bias from being provided a free unit".
POLAR ENTERS THE FORBIDDEN ZONE
Integrated GPS has been popular for over 6 years now ever since Garmin came out with its 205 and 305 watch series. "Polar has always had the best heart rate features and most accurate calorie counts but what makes this exciting for runners and cyclists is that now you don't have to choose between the highest quality heart rate data and GPS", says Squire.
The Polar RC3 GPS watch will get accurate real-time speed and distance for any outdoor sport, plus receive mapping data, pacing data and Polar quality heart rate data. The RC3 includes customizable zones, a simple sports interface where one can see their sport and what sensors are enabled. "This watch will work great for other sports enthusiasts that cross-country ski, kayak and lots of other outdoor sports, like my favorite - mountain biking", says Squire.
AVAILABILITY
The Polar RC3 will begin distribution at online stores, like the Heart Rate Watch Company, in October and they are currently taking advance orders for the RC3.
"This is going to be a very popular watch this Christmas so we would recommend getting one ordered as early as possible to avoid stock issues", says Squire. He adds, "Many popular watches like the Suunto Ambit sold out this year, so it pays to be ahead of the crowd".