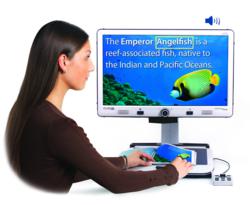 Before Merlin elite, I'd lost all desire to read on my own. Now I can't wait to get my mail & magazines!
Huntington Beach, CA (PRWEB) August 17, 2012
Enhanced Vision, America's leading manufacturer of magnifying solutions for the visually impaired, launched Merlin HD elite, a much anticipated high definition desktop electronic magnifier featuring text-to-speech (OCR) technology.
Merlin HD elite's high definition camera and monitor offer vibrant, crystal clear images. Enjoy rich colors while viewing your favorite articles in a magazine and brilliant detail while looking at family photos. Ergonomically designed, the monitor swivels horizontally as well as vertically to achieve the most comfortable viewing position.
If reading is what you enjoy, Merlin HD elite provides a large field of view, allowing you to see more of your printed material on the screen. If you experience fatigue while reading your favorite book or newspaper, simply push a button and let Merlin HD elite read to you. Choose from a male or female voice and the desired reading speed. Many languages are also available to choose from.
Merlin HD elite Features:

Sony® HD auto focus camera
24" high resolution HD LCD for best image quality
Text-to-Speech (OCR) – reads aloud with Nuance® software
Magnification up to 70x
Easy-to-use console with line markers
User-friendly menu
28 viewing modes to optimize contrast and brightness
LED lighting for truer HD picture quality
LCD screen easily pivots vertically and horizontally
Monitor can also be utilized as a display for your computer
Set up is easy, just plug in and begin
3 year warranty
Designed and Assembled in the USA
Currently, more than 15 million people in the United States are diagnosed with low vision conditions, such as Macular Degeneration which makes everyday activities like reading, writing, and working on hobbies a real challenge. And with America's aging population, this number is expected to double by 2020. Leading eye care specialists have discovered that video magnification is a solution for these individuals to regain and maintain their independence.
"We are proud to bring to market a product that combines two of the most effective technologies for low vision, and at hundreds of dollars less than competing products," said Marc Stenzel, Vice President of Sales at Enhanced Vision. "Once again, we've managed to set a new standard in the low vision assistive technology industry."
For more information about Enhanced Vision and its products, please call
(888) 811-3161 or visit http://www.enhancedvision.com.
About Enhanced Vision
Enhanced Vision is the leading developer of innovative products designed specifically for people who are legally blind and have macular degeneration and other low-vision conditions. The company offers the most comprehensive line of electronic magnifying solutions and has helped thousands of people regain their visual independence by providing the ability to read, write, watch TV, enjoy a play and live again. Headquartered in Huntington Beach, Calif., Enhanced Vision products are available in more than 70 countries worldwide. For more information, please call (888) 811-3161 or visit http://www.enhancedvision.com.