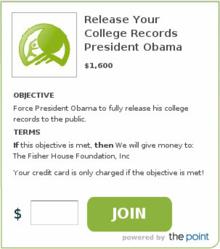 (PRWEB) August 16, 2012
The campaign is asking people to pledge money to The Fisher House Foundation. If the President releases his college records The Fisher House receives the donation. If President Obama refuses to release his college records no ones' credit cards are charged and The Fisher House receives nothing.
If the campaign sparks interest, money will become available due to private pledges from individuals who are interested in seeing the President make his college transcripts public. Mr. Obama might have to endure pressure from social activism groups with a substantial donation sum ready for release to The Fisher House.
A pledge can be made directly on ThePoint.com website by clicking here: http://www.thepoint.com/campaigns/campaign-0-4385. Social sharing networks such as Twitter, Facebook and other social media outlets are being used to get more people involved.