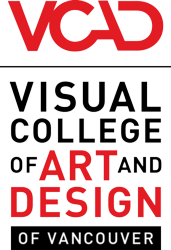 Visual College of Art and Design (VCAD) graduate Evan Ducharme was crowned the winner
Vancouver, BC (PRWEB) August 16, 2012
Vancouver's fashion industry gathered in standing room only capacity at Fashion's Night Out Vancouver's (FNOV) Fashion Design Competition where Visual College of Art and Design (VCAD) graduate Evan Ducharme was crowned the winner. His first place prize package included a Whistler getaway prize and a coveted spot to show his collection in the September 6th FNOV fashion show along with designers and retailers Jason Matlo, Jaqueline Conoir, Wear Else, Miss Sixty, French Connection, Stylista Clothing, and Daryl White.
The Fashion Design Competition was held at Ayden Gallery, which was transformed from an empty gallery space into a runway room. The three judges for the event were designer Jason Matlo, whose collection has been displayed at Saks Fifth Avenue in New York, stylist Luisa Rino, and designer RozeMerie Cuevas.
All eight finalists had an opportunity to show their collection pieces before the judges selected two finalists, VCAD graduates Abby Shumka and Ducharme. In a rapid five-minute showdown, the finalists had to conduct a live draping of a dress on a model. Ducharme won for his creative and unique look.
VCAD would like to congratulate the five VCAD graduate contestants, Evan Ducharme, Abby Shumka, Katie Garnham, Jillian McNab, and Claire Gabereau for all of their hard work.
VCAD is a proud supporter of FNOV's first year in the city and of the emerging design talent in Vancouver. Student interns from VCAD's Fashion Design and Marketing and Merchandising for Fashion programs have been working with the FNOV team all summer to produce special events and promotions.
To get the full fashion experience, VCAD videographers captured an exclusive behind-the-runway video. Watch the video here: http://youtu.be/nrl-W5K5LTg.
View photos from the event and student work here:
Facebook: facebook.com/VCAD.ca
Twitter: twitter.com/vcadfashion
Tumblr: vcadfashion.tumblr.com
Pinterest: pinterest.com/vcadfashion
YouTube: youtube.com/vancouvervcad