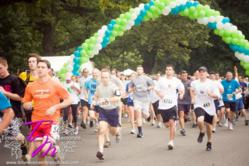 The Run/ Walk to Break the Silence on Ovarian Cancer brings the community together to demonstrate that ovarian cancer is more than a woman's disease
Philadelphia, PA (PRWEB) August 17, 2012
The Delaware Valley Chapter of the National Ovarian Cancer Coalition will hold its 14th Annual "Run/ Walk to Break the Silence on Ovarian Cancer" on Saturday, September 8, at Memorial Hall, Fairmount Park to raise awareness of ovarian cancer, celebrate ovarian cancer survivors, and remember those lost to the disease. All proceeds fund education and awareness, as well as quality of life programs on both a local and national level. Over 2,000 people are expected to attend the event.
"The Run/ Walk to Break the Silence on Ovarian Cancer brings the community together to demonstrate that ovarian cancer is more than a woman's disease," said Vanda Soldati, Delaware Valley Chapter Coordinator. "We see family, friends, co-workers and the medical community gathering at the event to honor the women in their lives who suffered from ovarian cancer. The Run/ Walk also serves as an opportunity for all who attend to learn how to be their own health advocate."
Event day festivities include family friendly activities such as face painting, a tricycle parade, as well as the USATF certified 5k run, 5k walk and 1 mile walk. Survivors and women in treatment for ovarian cancer will enjoy a special complimentary auction table and take part in the annual Survivor group photo on the Museum steps and leave their handprint on the Survivor banner. The walk is also dog friendly. Health and wellness experts will be available in the "Health Tent" and family and friends can bring a photo of a loved one lost to the disease to display on the Wall of Courage at the "Survivor Tent." Teal items will be available on site and great items will be showcased in the "Chance To Win Tent" for participants to win with proceeds going to NOCC. Penn Medicine is the premier local sponsor of the event, in addition to Fox Chase Cancer Center and Janssen Biotech.
Pre-registration runs until September 2, 2012 online at nocc.kintera.org/delawarevalley. The fee is $25 for adults and $30 for late / day-of registration. Day-of Registration begins at 7:15am. The 5k run will start at 8:45am and the walks will have a 5 minute delay and will attract more than 2,000 participants. All on-site activities close at 11am.
About the National Ovarian Cancer Coalition
The mission of the National Ovarian Cancer Coalition (NOCC) is to raise awareness and promote education about ovarian cancer. The Coalition is committed to improving the survival rate and quality of life for women with ovarian cancer. The Delaware Valley Chapter was established in 2009 to advance the National Ovarian Cancer Coalition's mission in the Greater Delaware Valley area. It is the result of the consolidation of three Chapters, Delaware, Philadelphia, and Southern New Jersey. For more information, visit http://www.ovarian.org.