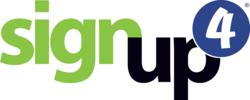 These features are a direct result of our commitment to providing relevant innovative solutions to the marketplace
Atlanta, GA (PRWEB) August 21, 2012
SignUp4 (http://www.SignUp4.com), a leading provider of strategic meetings management software, today announced the release of several new features in their award-winning software. The new features expand the SignUp4 Travel Management Module (TMM) offerings, provide compliance reporting, and create new efficiency tool for planners to use onsite for their events.
SignUp4's Public Kiosk is a powerful new feature offered as a component of the SignUp4 Event Management System (EMS) which allows users to create multiple customized devices integrated with the attendee information contained in the SignUp4 system. Such devices can be used onsite at an event to facilitate check-in, badge printing, attendee registration, event payment, surveys, session attendance, or provide local information about the event. These Kiosks are optimized to run on tablets, laptops, and desktop computers to provide a range of solutions to meet the requirements of each event. SignUp4 has developed this tool leveraging the experiences and feedback of their users to provide an experience that will help dissolve long registration lines, reduce onsite staffing needs, provide efficient tracking, and add convenience to the attendee experience.
SignUp4 has added the Flight Risk report to indicate those flights for a meeting that have multiple travelers on the same flight. The report leverages SignUp4's integration with the Global Distribution Systems (GDS) to provide one-stop risk analysis for the effects of a single delay, cancellation, or incident for the event or transportation. It lets the planner know, as soon as the ticket is booked, if there is an issue with too many executives or employees from the same division on the same flight. It can also be utilized to understand which flights have multiple key presenters or speakers so that they can plan for contingencies.
A second new tool for Travel Managers is the Bulk PNR Uploader. This allows planners to easily upload a spreadsheet of PNR air itineraries into the SignUp4 system, which will then automatically match with the meeting attendees. This creates a low-cost solution for inserting traveler information not booked through the GDS. This upload feature also allows for the integration of travel instances with complex requirements or unique traveler needs. All tracking, auditing, and informational reporting already available from the SignUp4 TMM is also available for PNRs uploaded using the tool.
"A key element of our success is listening to our customers and providing them with solutions that meet their needs. These features are a direct result of our commitment to providing relevant innovative solutions to the marketplace," said Doug Wetzel, VP of New Product Engineering and Co-Founder of SignUp4. "We are looking forward to seeing the impact of these tools for our users and are always working on the next ideas we can add into SignUp4's solutions."
About SignUp4
SignUp4 is the innovative meetings intelligence provider offering the highest quality event management and strategic meetings management solutions with an affordable unlimited usage model. Founded in 1999 and backed by an experienced team of technology and event management experts, we are driven by a single objective- to design, develop, deliver, and support the most reliable, cost-effective event management tools. To ensure we meet the needs of our clients and the demands of the evolving meetings industry, we develop new features and functionality every 5 weeks, on average producing over 1,000 updates annually. The goal of SignUp4's meetings intelligence is to streamline workflows, simplify and drive registrations, efficiently manage travel logistics, improve communications, and provide visibility into meeting spend for leveraging contract negotiations and increasing ROI. With over a decade of experience, 3,200 users and over 80 of the Fortune 500, we understand the value of your time and events.