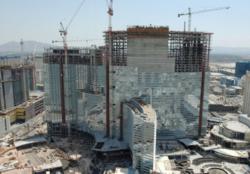 $100 Early Registration Discount Until September 7
Dallas, Texas (PRWEB) August 20, 2012
The Construction Audit & Cost Control Institute (CAACCI) is bringing construction audit and fraud training solutions to Dallas, November 12-13, 2012. Rich Townsend, President of the consulting firm R. L. Townsend & Associates, will present "Effective Auditing of Construction Activity." Courtenay Thompson, President of Courtenay Thompson & Associates, will lead "Construction Fraud: Detection, Prevention & Response."
Effective Auditing of Construction Activity - 16 CPE Credits
Two-day course covering proven construction audit strategies and techniques to enhance your organization's ability to effectively control construction costs. Attendees will learn how to effectively establish audit coverage to achieve "risk based" cost avoidance and cost recovery results.
In poorly controlled construction environments, fraud, waste and abuse contribute to even greater losses. By exploring overcharges, how they occur and how they may be identified and recovered, attendees learn the knowledge and skills needed to address this challenge. This practical, experience-based seminar provides attendees with the ability to look beyond their traditional role by providing them with insight on how to help their organization bring construction projects in on-time, within budget, at the desired quality and at a fair price.
$100 Early Registration Discount Until September 7 for both seminars.
Construction Fraud: Detection, Prevention & Response - 16 CPE Credits
This seminar explores types of fraud common to construction, techniques for reducing construction fraud and how to respond when fraud surfaces. The content is practical and hands-on, loaded with strategies and tactics, tips and techniques.
The creative use of construction auditing can yield dramatic results elsewhere. Courtenay Thompson has written a helpful article that shows that lessons from construction auditing can be applied to other contracts. Overcharges may be modest or monstrous. 1% to 2% is common on well-controlled projects. If corruption is included, overcharges can reach 30% to 60% or more. Click here to read, "Creative Use of Construction Auditing Can Yield Dramatic Results Elsewhere," by Courtenay Thompson.
The Construction Audit and Cost Control Institute, Inc. (CAACCI) of Dallas, Texas was created in 2008 by Rich Townsend (president of the consulting firm R. L. Townsend & Associates) as a resource to share information and solutions for today's challenges in auditing and construction cost control. CAACCI members include project management and construction audit representatives from a wide range of private and public organizations.