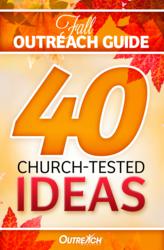 Colorado Springs, CO (PRWEB) August 16, 2012
To help churches of all sizes nationwide better connect with the people in their communities this fall, Outreach magazine has released the new, free e-book Fall Outreach Guide: 40 Church-Tested Ideas.
"People tend to be more open to returning to church in the fall, as they settle back into regular routines at work and school after summer vacations," Outreach Editor Brian Orme says. "This e-book gives practical ideas churches can use or adapt to their settings to reach new people and serve their neighborhoods during this pivotal season."
The e-book comprises 40 ideas that some churches across the country already have used successfully and that have appeared in the pages of Outreach magazine. Ideas are divided into three main categories: Back to School, Back to Church, and Holidays and Observances. They include participating in the National Back to Church Sunday movement, providing financial and moral support to an "adopted" classroom at a local school, and holding a "pumpkin chunkin'" event to raise money for a church ministry or for a charitable organization.
The e-book is free to anyone who signs up for the free, daily Outreach magazine e-newsletter or for the free [Outreach Tips, Ideas and Special Offers e-newsletter from the magazine's parent company, Outreach Inc.
Based in Colorado Springs, CO, Outreach magazine offers the ideas, insights and stories of today's outreach-oriented, Bible-based churches. Founded in January 2003 by church communications company Outreach, Inc., Outreach is an award-winning, bimonthly periodical for church leadership. Each year, Outreach publishes the Outreach 100, a special issue in September that features the 100 Largest and Fastest-Growing Churches in America; the Small Church issue (July/August); and the Outreach Resources of the Year (March/April). Outreach is available by subscription. For more information, visit OutreachMagazine.com.