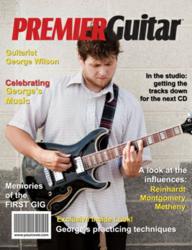 The cover came out fantastic! My boyfriend absolutely loved his gift. I also bought the pop out frame and the cover looked amazing and completely real in it. It definitely brought a smile to his face.
Wilton, CT (PRWEB) August 28, 2012
Premier Guitar and Premier Guitar's digital media network has become the go-to authority for guitarists, bassists and guitar lovers since its launch in 2007. The print magazine features articles and information on the newest equipment, famous guitarists, best gear, lessons and more.
YourCover has been offering consumers the opportunity to create personalized magazine covers featuring their photos and custom headlines since 2000. During that 12 year period, YourCover has increased the number of custom magazine cover designs to over 80. With the newly announced partnership with Premier Guitar, YourCover is thrilled to be able to offer consumers the opportunity to be a on a real magazine cover.
For those who love guitars whether as an instrument to play or to just enjoy hearing, being able to appear on a Premier Guitar magazine cover is a unique and memorable opportunity. Consumers simply upload a photo of themselves, their band mate(s), friends or family members to one of two Premier Guitar magazine cover templates. Each headline can then be personalized to be all about that person's love of music, career, favorite songs, etc. The personalized magazine cover can be purchased as a photo file download for instant self-printing or YourCover can print (and frame) the magazine cover for shipment.
The personalized Premier Guitar magazine cover can be used as a birthday gift or as a gift/keepsake to celebrate a special concert, show, tour or musical accomplishment. In addition to framed magazine cover photo prints, the custom magazine covers can be printed as posters, or on a mug, t-shirt or mouse pad.