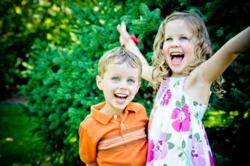 Denver, Colorado (PRWEB) August 18, 2012
Children with cancer are caught in a battle none of us should ever have to face. Yet they fight with courage and dignity, and teach us through their journey to cherish life and to make a difference whenever we can.
On October 7th, 2012, Elevate Photography will host their first ever "Clicks for Cancer" photographic fundraising event for pediatric cancer. This event is dedicated to McKaila Steffes, a spirited child who lost her battle with cancer when she was only 10 years old. McKaila was the neighbor of Elevate's founder, McCory James.
If you wish to help support the fight against pediatric cancer, you can do so with your participation. Simply pledge to donate $50 or more, and you will receive a 15-minute portrait session with a photographer from Elevate Photography Studio, and a free 8 x 10 print. All proceeds will be donated to the McKaila J. Steffes Foundation and the Morgan Adams Foundation. Both are local, non-profits that raise money to fight childhood cancer. Like McKaila, Morgan Adams also lost her battle. She was 6 years old.
All photos from your session will be posted online, allowing participants to choose their free print, and to make any additional orders. All proceeds from additional orders, including Christmas card orders, will be donated as well.
Reserve your spot today, and help us in our efforts to make a difference in the lives of children
affected by this tragic disease.
To register: Simply visit elevatephotography.com and click on the "Clicks for Cancer" icon, or feel free to call us at 303.744.6700.
For complete event details, visit elevatephotography.com/clicks-for-cancer.
Additional resources: McKaila.org, MorganAdamsFoundation.org