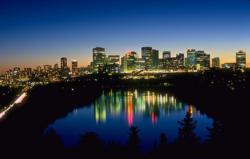 CHMC asserts that the industry is going for a moderate slowdown but the situation is different for different regions right now
(PRWEB) August 20, 2012
Canada Mortgage and Housing Corporation has recently released their latest housing market outlook for 2012 and 2013. The main headline of the outlook is stats and figures that point towards a moderate slowdown in the market. According to Marcus Akran, CEO of Syndicate mortgages, this can be considered good news for everyone who was speculating a bubble. However, the most positive news for the rest of 2012 and 2013 is coming from Edmonton Alberta.
According to CHMC, home construction and housing starts have surged in July and are expected to remain high well into 2013. Currently, home construction has touched a level that hasn't been reached since the early 2000s.
According to Mr. Arkan, both Edmonton and Calgary are playing a major role in keeping the province ahead in terms of housing starts and sales. Presenting an analysis of CHMC's latest revelations, Mr. Arkan said, "CHMC asserts that the industry is going for a moderate slowdown but the situation is different for different regions right now. In Toronto and Vancouver, sudden cool down is somewhat alarming while Alberta is moving in a different direction. We can assume right now that this might very well create a balanced situation for the economy."
In their latest outlook, CHMC reports that housing starts in Edmonton CMA moved up to 1,435 this July. Last year, the number was standing at 1034 in the month of July. After a thorough study and analysis of CHMC's outlook, Mr. Arkan suggests that higher rate of home construction is largely due to the increasing rate of employment and new comers in the region.
The increase is not just limited to one sector. CHMC revealed that Edmonton is experiencing a surge in both multi-family and single-family residential sectors. The data collected through the real estate board shows that the construction of single-family homes in Edmonton CMA has increased 22% as compared to the same time last year. Also, a total of 341 new foundations for single-family detached homes were laid in Edmonton this July.
Similar trends were reported in multi-family sector, according to CHMC. "With 90% of construction happening in Edmonton, the city is currently the hottest spot of multi-family sector," added Mr. Arkan. A senior analyst from CHMC stated that this heat is created by the large number of immigrants moving towards Edmonton due to its promising economic conditions.
About Syndicate Mortgages Inc.
Syndicate Mortgages Inc. is one of the leading Canadian mortgage brokerage firms. Founded in 2008 in Ontario, the company specializes in residential, commercial and construction financing across Canada. With years of experience and expertise in the mortgage industry, and access to an array of lending institutions across Canada, Syndicate is known for finding the best mortgage rates for their customers. Syndicate has branch locations across Canada. For contact, please use the following details.
Contact Details
Syndicate Mortgages Inc.
http://www.syndicatemortgages.com
Toll Free: (888) 646-1062
Email: info(at)smibroker(dot)com