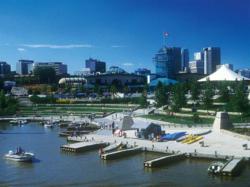 We know that the heat is no longer in Vancouver and Toronto. It has now shifted towards Winnipeg and Alberta. There are a lot of new immigrants and the demand is, therefore, increasing by the day
winnipeg, manitoba (PRWEB) August 21, 2012
The third quarter forecast for Canada's housing market presented by CHMC on Tuesday 14th August indicates a slowdown of housing activities across the country. According to the report, Manitoba is currently not showing any sign of a slowdown and is expected to remain strong for the rest of 2012 and 2013. Marcus Arkan, CEO of Syndicate Mortgages, has shared some important facts and figures related to housing activities in Manitoba as reported by CHMC.
CHMC states that the housing prices will continue to grow in 2012 and well into 2013 but on a much slower rate than a year before. Mr. Arkan suggests that the price growth in Manitoba will also follow the same pattern. However, rest of the housing related activities will remain strong. CHMC forecasts that the housing starts are expected to grow up to 6,800 units this year from 6,083 last year. The point forecast for 2013 is of 6,900 units. In July, there is 19% increase in single family constructions in Winnipeg on the whole.
According to Manitoba Home Builders Association, the demand is growing and current units won't be enough to meet the demand. Analyzing this situation, Mr. Arkan said, "We know that the heat is no longer in Vancouver and Toronto. It has now shifted towards Winnipeg and Alberta. There are a lot of new immigrants and the demand is, therefore, increasing by the day."
As far as the price is concerned, Winnipeg has witnessed a tremendous rise in new home prices for the sixth consecutive month this year. Despite the rise in prices, Mr. Arkan predicts that affordability will not be an issue in Winnipeg. This is due to high employment rates and very low interest rates in the province.
Mr. Arkan also pointed out one noticeable stat reported by CHMC in their latest housing market outlook. According to CHMC, in Manitoba, the rise in housing starts is limited to single-family detached homes right now. As far as the multi-family starts are concerned, CHMC reports a 65% decline as compared to July 2011.
Previously, CHMC predicted a 17 % rise in the total starts for this year. Currently, it has actually jumped 24% from last year. Mr. Arkan compared the CHMC's revised outlook with the previous one and said, "We can assume the organization is still not able to predict Winnipeg's future correctly. The market is really exceeding all expectations."
About Syndicate Mortgages Inc.
Syndicate Mortgages Inc. is one of the leading Canadian mortgage brokerage firms. Founded in 2008 in Ontario, the company specializes in residential, commercial and construction financing across Canada. With years of experience and expertise in the mortgage industry, and access to an array of lending institutions across Canada, Syndicate is known for finding the best mortgage rates for their customers. Syndicate has branch locations across Canada. For contact, please use the following details.
Contact Details
Syndicate Mortgages Inc.
http://www.syndicatemortgages.com
Toll Free: (888) 646-1062
Email: info(at)smibroker(dot)com