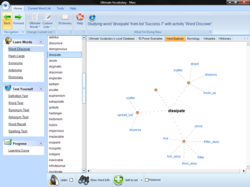 "Customized learning keeps users motivated as they quickly see their vocabulary improving."
New York City, NY (PRWEB) August 18, 2012
Modern research is proving the value of user-led learning. With this in mind, the creators of one of the world's most advanced vocabulary builder software packages, Ultimate Vocabulary™, is today announcing their software's advanced customization features.
"Ultimate Vocabulary™ uses the latest in cutting-edge technology to track each user's progress and fully customize their learning," says Marc Slater, Managing Director of the company behind the Ultimate Vocabulary™ platform.
He continues, "Each time the users does something within the program, it tracks their activity and uses the data to customize their future learning experiences."
This process has proven to be more than fruitful, with users reporting maximum results in shorter periods of time.
As Slater explains, this customization process also has an important double-benefit.
"Customized learning keeps users motivated as they quickly see their vocabulary improving, thanks to the ever-changing software they own. For the first time, each user is able to see exactly how many words they have mastered and they can enjoy being rewarded for achieving their goals."
Reporting is also an important facet of Ultimate Vocabulary™. A series of graphs, charts and visual displays clearly publish results; each furthering motivation by showing a compound improvement effect as each day progresses.
Coupled with its inclusive learning features, it's easy to see why Ultimate Vocabulary™ has been awarded a number of high-profile reviews and gold medals by some of the software sector's most critical review websites.
For more information on the software's reporting systems and its features, please visit: http://www.ultimatevocabulary.com
******
About Ultimate Vocabulary™
Ultimate Vocabulary provides a proven and powerful platform, built to improve anyone's vocabulary.
The interactive self-improvement system provides more learning tools than any other program on the market, as well as more information on words.
The Ultimate Vocabulary software provides each and every user with a personal computer tutor. Providing a step-by-step guide to learning a powerful vocabulary, Ultimate Vocabulary is the learning tool everyone can benefit from.
Of course, the software is also backed by eReflect's iron-clad money back guarantee.