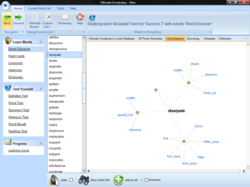 "Gone are the days of paper-based vocabulary improvement. With the advent of technology, improved vocabulary can easily come with as little as ten minutes of work each day,"
New York City, New York (PRWEB) August 19, 2012
There's no denying that an improved vocabulary boasts wonderful benefits across all areas of life. Having grown to become a global authority on improved vocabulary, Ultimate Vocabulary™ today shares some of its top benefits with the world.
"While it may at first seem obvious, some people are unaware of the true benefits of an improved vocabulary. So, we'd like to take them public in the hope that it inspires people to work on their own," says Marc Slater, Managing Director of the company behind Ultimate Vocabulary™.
The benefits are:

Improved communication
Higher levels of personal and business writing
Ability to improve school and college grades
Instantly improved spelling
Advanced reading and comprehension skills
Improved opportunities for career promotion
Expression to others of a more articulate language
Increased confidence
Instant boost in respect
Increased credibility
"The list goes on. It's safe to say that improving one's vocabulary can have a myriad of benefits in both their personal, work and educational lives," Slater adds.
Ultimate Vocabulary™ is currently leading the vocabulary improvement industry with their software-based vocabulary builder. Developed and researched by a leading team of self-improvement experts and software developers, the platform is currently in use within thousands of homes and institutions worldwide.
"Gone are the days of paper-based vocabulary improvement. With the advent of technology, improved vocabulary can easily come with as little as ten minutes of work each day," Slater concludes.
To find out more about the benefits of improved vocabulary, as well as to find out more about Ultimate Vocabulary™, please visit: http://www.ultimatevocabulary.com
******
About Ultimate Vocabulary™
Ultimate Vocabulary provides a proven and powerful platform, built to improve anyone's vocabulary.
The interactive self-improvement system provides more learning tools than any other program on the market, as well as more information on words.
The Ultimate Vocabulary software provides each and every user with a personal computer tutor. Providing a step-by-step guide to learning a powerful vocabulary, Ultimate Vocabulary is the learning tool everyone can benefit from.
Of course, the software is also backed by eReflect's iron-clad money back guarantee.