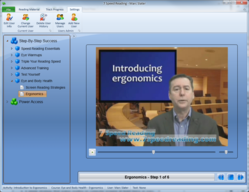 "It's easy for anyone of any age to learn to speed read – and the benefits stretch much farther that a book."
New York City, New York (PRWEB) August 20, 2012
While it may not first seem like a life-changing improvement, learning to read faster is proven to boast a myriad of benefits. With this in mind, one of the world's most advanced speed reading software packages, 7 Speed Reading™, shares its benefits with the world.
"Many people feel that the speed they read at is with them for life. However, this just is not true," says Marc Slater, Managing Director of the company behind the 7 Speed Reading™ speed reading platform.
Continuing, "It's easy for anyone of any age to learn to speed read – and the benefits stretch much farther that a book."
Today, the company released details of the following benefits:

The ability to take control of 'information overload'
An increase of career-centric brain capacity
Ability to work quicker through web pages and emails
Quicker and more thorough exam preparation (statistics show learning to speed read can speed up exam preparation by up to thirty percent)
Opportunity to feel more energized and inspired
Increased interest and attraction to the opposite sex
"All of these goals are easily achievable and absolutely true. With software existing that allows people to improve their reading speeds with just a few minutes of work each day, the road to a better life is just a few words away," Slater adds.
To find out more and download the entire 7 Speed Reading™ platform today, please visit: http://www.7speedreading.com
******
About 7 Speed Reading™
7 Speed Reading is the only modern speed reading software that uses the latest technology to produce superior results.
The software provides its users with a new way to master speed reading that guarantees three times the reading speed along with improved memory and comprehension.
The software is poised as the most comprehensive speed reading system anywhere. It contains seven learning strategies, fifteen software activities, video training, advanced tracking capabilities and many more exciting features.