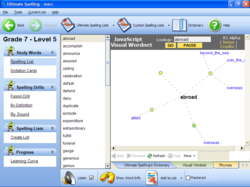 "The digital age has opened up a world of possibility for children who are looking to improve their spelling,"
New York City, NY (PRWEB) August 21, 2012
The all-American spelling bee is a tradition that millions of children join in with every year. Today, the creators of Ultimate Spelling™ announce a digital learning tool that can prepare children faster and easier than ever before.
The Ultimate Spelling™ spelling tutorial software uses an expansive range of online lessons, games, tests and feedback to prepare children to wow the judges when they step up to the microphone.
Researched and developed by a leading team of spelling and software experts, the package's proven principles are a far cry from traditional paper-based spelling improvement methods.
"The digital age has opened up a world of possibility for children who are looking to improve their spelling," says Marc Slater, Managing Director of the company behind the Ultimate Spelling™ platform.
He continues, "Children are now afforded a totally customized and computer-based method to prepare themselves to meet any word-based challenge, head-on."
In fact, the software boasts that any child can see a dramatic increase in their spelling after just one week of use. With software only requiring ten minutes of use each day – there has never been a quicker or more fun way to arrive at the next spelling bee with the confidence and skill of a winner.
To find out more and get on the road to better spelling by next week, please visit: http://www.ultimatespelling.com
******
About Ultimate Spelling™.
Ultimate Spelling provides a modern and easy to use spelling software that has been designed with one goal in mind – making children WANT to learn.
It is a fast and easy way to master even the most complicated spelling, without the need to write long lists or complete boring tests.
In fact, Ultimate Spelling provides more than just spelling help. It is a complete educational resource that boosts all level of a child's literacy.
Containing a personal computer tutor, Ultimate Spelling is the most realistic step-by-step guide to flawless spelling ability.