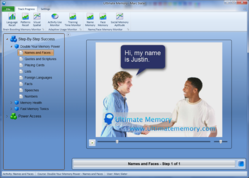 "Our online helpdesk is linked directly to a highly-skilled team of customer relations experts, there to serve everyone's needs,"
New York City, NY (PRWEB) August 23, 2012
With momentary memory lapses and 'senior moments' plaguing millions of people each day, few would argue that an improved memory can afford a wealth of benefits. Today, the creators of one of the world's leading memory training software packages shares their top benefits with the world.
Ultimate Memory™ was designed and developed by a leading team of software and memory experts.
"Our platform is the result of years of diligent research and work," says Marc Slater, Managing Director of the company behind the Ultimate Memory™ platform.
He continues, "There is huge demand out there for a digital tool that allows people to increase their memory capacity and power. We tasked ourselves with creating it!"
In a statement from the company, the top benefits of an improved memory are claimed to be:

Ability to remember names and faces
Improved potential to remember quotes and scriptures
Better recall of lists
Improved retention and recall of facts
Speech improvements
Ability to remember complex series of numbers
"There is no denying that the above skills can help millions of people around the world. With the ability for these benefits to be transposed into all areas of life, the argument for ongoing brain training has never been stronger," Slater adds.
The company's Ultimate Memory™ system is critically acclaimed for its ability to improve brain power, function and memory with as little as ten minutes of use each day.
"That isn't hype – but it's a fact based on diligent research as well as feedback from our hundreds of users," Slater concludes.
For more information, please visit: http://www.ultimatememory.com
******
About Ultimate Memory™
Ultimate Memory™ is the market's leading memory improvement software package.
Scientifically proven to improve memory with as little as ten minute's user per day, Ultimate Memory™ is also backed by an iron-clad guarantee.
Containing many innovative strategies, tutorials, tips and exercises, users benefit from a myriad of varied ways to learn.