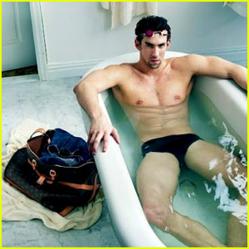 If Mr. West's attorney ever calls us back, we'll be happy to have a talk. But as a practical matter, that hasn't happened. We're jumping through hoops. We'll probably have to serve him in public.
Houston, TX (PRWEB) August 21, 2012
To help luxury lovers stay informed on the latest in upscale style and Hollywood happenings, Rodeo Drive Resale (http://www.shopRDR.com), premier reseller of 100% authentic guaranteed handbags and fashions including designer pieces such as Louis Vuitton bags, Chanel heels and Tiffany & Co. jewelry, highlights the latest in celebrity and designer fashion news.
1) MICHAEL PHELPS, LUXURY MODEL: Swimming champ Michael Phelps promised to be done with swimming by age 30, but according to a story posted by The San Francisco Gate on August 15, that doesn't mean the Olympian plans on fading into the background just yet. Lovers of luxury fashion may have seen a pair of photos which featured the 27-year-old posed next to a Louis Vuitton bag. The ad was reportedly shot by renowned photographer Annie Leibovitz, who, in the past, has photographed celebrities including former St. John Knits' endorser Angelina Jolie and Whoopi Goldberg. As a premier reseller of Louis Vuitton, we are excited to see more ads featuring the Olympic champion.
2) SODA POP CULTURE: Will.I.Am, front man of pop music group The Black Eyed Peas, has landed a tasty deal with The Coca-Cola Company. On August 14, Yahoo News posted a story that revealed Coca-Cola had agreed to join forces with the "I Gotta Feeling" rapper to launch Ekocycle, a brand of eco-friendly clothing and accessories. This will be yet another foray into the world of fashion for Will.I.Am, who is known for his outrageous stage performances and colorful costumes. We will definitely be keeping an eye out for this exciting new line of fashion, which is certain to be as unique as it is trendy.
3) GOODBYE HERMES: In a feature story posted on August 15 by New York Magazine, Vanessa Bryant, wife of NBA star Kobe Bryant, said she was all but through with trendy designer bags: "I'm not really a handbag person anymore. I've collected Birkin bags, Chanel 2.55 jumbo flap bags, and the Marc Jacobs Stephen Sprouse collection for Louis Vuitton since I was a teenager. But now, as they say, everyone and their mom is buying a Birkin or a regular size 2.55 bag in black, taupe, or beige. I've been sticking to a magenta suede Proenza Schouler bag," she explained.
Rodeo Drive Resale (shopRDR.com) has built a reputation of providing amazing deals on handbags, clothing and accessories from the top designers of upscale fashion. The company offers a 100% guarantee of authenticity on each item sold, and works daily with a network of clients looking to buy, sell, or for consignment of their luxury goods. ShopRDR.com loves high-end fashion, and believes finding a high quality, classic piece should be an easy, enjoyable -- and most importantly -- hassle-free shopping experience. For the finest in Louis Vuitton, Chanel, Prada, Gucci, St. John Knits, Christian Louboutin, Tiffany & Co. and more, visit RDR online at http://www.shopRDR.com or call 1-888-697-3725.
Also find shopRDR at:
Facebook: facebook.com/shopRDR
Twitter: twitter.com/shopRDR
YouTube: youtube.com/ shopRDR
Pinterest: pinterest.com/shopRDR
Rodeo Drive Resale (shopRDR.com)
1-888-697-3725
service(at)shopRDR(dot)com