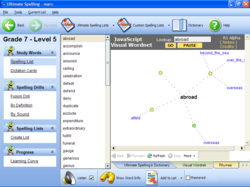 "Our team has worked diligent for many years and kept on top of ever-changing industry research in order to produce a product that is as powerful as it can be."
New York City, NY (PRWEB) August 24, 2012
Following a string of positive reviews and awards, Ultimate Spelling™ has proven its ability to be regarded as one of the world's most powerful spelling tutorial software programs. Today, the team behind the software reveals another accolade; its ability to improve a child's spelling in just seven days.
This comes after consulting extensively with Ultimate Spelling™ customers. As the Managing Director of its software development company explains, the results were compelling.
"We discovered that our software possesses the ability to vastly improve a child's spelling in just seven days," Marc Slater explains.
He continues, "This certainly puts Ultimate Spelling™ and the use of digital technology firmly in the driving seat of social change."
The Ultimate Spelling™ system contains a myriad of tutorials, tasks, games and reviews – each designed to vary a child's education and make them actually want to learn. With a huge focus placed on engagement and entertainment, it appears that Ultimate Spelling™ has struck the perfect balance between work and play.
"It didn't come overnight," Slater explains. "Our team has worked diligent for many years and kept on top of ever-changing industry research in order to produce a product that is as powerful as it can be."
To find out more and get on the road to better spelling by next week, please visit: http://www.ultimatespelling.com
******
About Ultimate Spelling™.
Ultimate Spelling provides a modern and easy to use spelling software that has been designed with one goal in mind – making children WANT to learn.
It is a fast and easy way to master even the most complicated spelling, without the need to write long lists or complete boring tests.
In fact, Ultimate Spelling provides more than just spelling help. It is a complete educational resource that boosts all level of a child's literacy.
Containing a personal computer tutor, Ultimate Spelling is the most realistic step-by-step guide to flawless spelling ability.