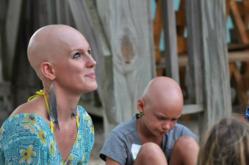 Boca Raton, FL (PRWEB) August 18, 2012
Hair Club in partnership with the Children's Alopecia Project, served as a title sponsor for the 4th annual Alopeciapalooza event. Held August 9-12 at North Topsail Beach in North Carolina, the weekend event brought together hundreds of children and adults who suffer from alopecia, an incurable hair loss condition.
North America's largest provider of all proven hair restoration services, Hair Club has helped more than 500,000 men and women of all ages suffering from hair loss over the past 35 years. During that time, the company has offered support to a number of non-profits working to help those experiencing hair losses as a result of diseases such as alopecia, including The Children's Alopecia Project, American Cancer Society, Sloan Kettering Hospital and Trichotillomania Learning Center.
As part of these efforts, Hair Club founded Hair Club for Kids (http://www.hairclub.com/hc-for-kids.php), a charitable arm of the company that provides complimentary hair restoration services for children aged 6-17 experiencing hair loss due to a range of diseases and disorders, including cancer, trichotillomania, and alopecia. Hair Club for Kids this year celebrates its 20th anniversary, having allotted more than $500,000 to help more than 10,000 children over the years.
"We are proud to be a part of this annual event to support adults and children who suffer from alopecia," states Darryll Porter, President and CEO of Hair Club. "The mission of The Children's Alopecia Project is well aligned with our company's work, helping to raise awareness of this condition and to increase the self-esteem and positive image of sufferers."
At this year's Alopeciapalooza, attendees participated in a variety of activities, including surf lessons from WB Surf Camp, and attended inspirational workshops led by former Miss Delaware Kayla Martell, who spoke of her own experience with alopecia, among others.
About Children's Alopecia Project:
The Children's Alopecia Project (CAP) was founded in 2007 and aims to help any child in need who is living with hair loss due to all forms of alopecia. With 15 regional branches across the United States, the organization assists with building self-esteem, providing support, and raising awareness about the condition.
About Hair Club:
Founded in 1976 by Sy Sperling, Hair Club is the leader in hair restoration and the largest company in the industry offering all proven hair loss solutions. Hair Club has granted more than 500,000 men, women, and children an experience that truly changed their lives. Today, Hair Club has 99 locations throughout the United States, Canada, and Puerto Rico and is a wholly-owned subsidiary of Minneapolis-based Regis Corp, the largest hair salon operator in the world. Regis brands include: Jean-Louis David, Vidal Sassoon, Supercuts, Mastercuts and many more.