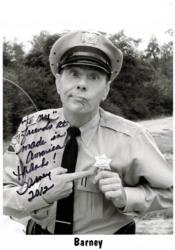 Elma, New York (PRWEB) August 17, 2012
The Made In America Store will be sponsoring Barney Fife, the deputy sheriff from the hit television "The Andy Griffith Show". The all USA-made products store is one of the sponsors at the 173rd Erie County Fair and bring some free entertainment to those who stop at the fair.
Scott Epperson, the individual who imitates Barney Fife, makes a career out of acting like the television character. Epperson does a fantastic job recreating the bumbling deputy sheriff and reminding everyone of the lone bullet he carries in his pocket. With Barney Fife comes his 1962 Ford Galaxie Mayberry Squad Car, in which he drives around the Erie County Fair's parade every day.
Epperson loves what the store is doing and the message behind the store. Epperson's character is from a time when everything was Made In America.
For those who visit the Made In America Store display and purchase an item, they will receive a discount coupon.
When customers cash out at the Made In America Store exhibit, they will have their receipt stamped. Consumers can then take their stamped receipt and bring it to the Made In America Store location in Elma, New York, to receive a 10% Discount on their entire purchase.
Consumers who have been following the Made In America Store story are aware of the discounts and promotions the US made store offers. Since the grand opening of the Made In America Store in April of 2010, the store always offered a 10% discount to Active Duty Military Personnel and Veterans.
Currently, the Made In America Store is offering an online promotion for anyone visiting the fair. At their display, the Made In America Store has QR codes throughout the building and anyone who scans to QR code will be directed to the Made In America Store Facebook Fan Page. Anyone who "Likes" the Made In America Store Facebook page during the days of the Erie County Fair (August 8th to August 19th) will be automatically entered to win some Made In America Store merchandise.
To add to the list of deals and promotions, Wigwam Socks has stepped in to help consumers get some extra socks in their Made In America Store bags. Right now, customers can get a free pair of Wigwam Socks if they purchase three initial pairs. Any individuals interested can either visit the Made In America Store in Elma, New York, or stop into the Erie County Fair and visit the store.
Click here to view the Wigwam Sock Collection that's 100% US manufactured, guaranteed!
"Whether you're looking for socks for the start of the school year, a heavy duty pair for your work boots in the upcoming winter, or even a light pair to assist you when you're running, these Wigwam Socks have both style and function." Said Anthony Falbo, a Social Media Marketer for the Made In America Store, "The Made In America Store has some amazing deals going on right now to help consumers stock up on the best American made socks from Wigwam."
Lastly, The Made In America Store has teamed up with General welding & Fabricating to bring a once in a lifetime promotion. General Welding & Fabricating are also having an Erie County Fair Display, with their custom made trailers and BOSS plows. For those individuals looking to purchase a BOSS Snow Plow during the Fair event will instantly get $200 off your plow with a $200 down payment. General Welding & Fabricating would like to stress that the individual doesn't need to specify which model they wish to purchase, but can decide on a later date, as long as the $200 is put down. The Made In America Store will also give a $100 gift card to anyone who purchases a BOSS plow during the event in full and in cash.
The Made In America Store, which is located at 900 Maple Road in Elma, New York, is committed to selling 100% American manufactured products. You can visit http://www.MadeInAmericaStore.com for more information or shop our catalog of over 3,500 products from over 300 vendors that are devoted to producing USA made products. All US military personnel, both active duty and veterans, receive a discount every day. Consumers can also keep up to date news articles, events, photos and contests with Facebook, Twitter, Google+, Pinterest and FourSquare!