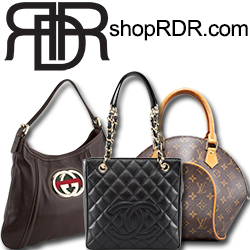 We made the decision years ago to transition ourselves from a storefront operation to being 100% online. Basically, we're changing our business model as our customer's shopping habits evolve.
Houston, TX (PRWEB) August 20, 2012
Over the past several years, shoppers searching for designer clothing discounts or low-priced gadgets have migrated toward online shopping in record numbers, according to a report by online data company Statista. Today, Rodeo Drive Resale (http://www.shopRDR.com), reseller of pre-owned fashions from top designers Chanel, Gucci, Hermes, Louis Vuitton and more, recalls its early foray into the world of e-commerce.
Established in 1999, ShopRDR.com began as a boutique located in Los Angeles, just a stone's throw away from the world famous fashion mecca of Beverly Hills. Quickly becoming one of the most popular luxury consignment stores on the strip, the company went from a modest storefront, to a larger location, before opting to take its business to the web at the advent of online consignment.
"We were one of the first online consignment stores," ShopRDR.com co-founder Raya Jaffer says. "Even big stores like Neiman Marcus were just starting to offer customers the option of online purchases back then." While the company now receives its fair share of online customers wanting to buy and sell everything from authentic designer handbags to St. John Knits pant suits, Raya recalls a time when many shoppers were reluctant to make online transactions.
"Buying clothes online was a really new concept just 12 years ago," Raya added. "Much more people shop online nowadays, but back then, there was a lot of confusion about how online shopping worked. Many people were nervous about giving out personal information over the web."
E-commerce in the early 2000s showed promise, as services such as eBay and PayPal, which allowed everyday people an easy and secure way to make online transactions, became more accepted. 24-hour access to online stores enticed many retailers, such as ShopRDR.com, to move their businesses online. Raya says as the popularity of web retailers continues to grow, businesses like hers are constantly finding new ways to make the online shopping experience more personal. In addition to photos, live assistance and personalized accounts; the company is exploring the idea of integrating video into their product descriptions.
"Basically, we're changing our business model as our customer's shopping habits evolve," she says.
While department stores still account for a large share of clothing sales, every day, more people discover the benefits of online shopping. Many online purchases are tax-free, which, in addition to the deep discounts to be found on the web, make for a relatively hassle free experience compared to the early days of online shopping. Other advantages include the ease of price comparison, no crowds and 'round-the-clock purchasing power.
Of course, buying items online does have its share of drawbacks. One recurring issue among consumers who have yet to be won over by online fashion retailers is the question of authenticity when it comes to brand name items.
In an effort to ease these concerns, every item purchased from ShopRDR.com comes with a guarantee of authenticity. Something Raya says designer fashion fans should request from any company they do business with.
"Web sites may use any number of phrases to describe the type of merchandise they carry, but the phrase '100% authenticity guarantee' is one of the most important when shopping for high end designer brands," she says.
Despite reports of sluggish growth in the economy, online U.S. shoppers will spend $327 billion in 2016, up 45% from $226 billion this year and 62% from $202 billion in 2011, according to a report released earlier this year by Forrester Research Inc., with an increase in mobile technology usage and free shipping programs cited as two of the driving forces behind online retail growth.
For lovers of luxury fashion, a little online surfing can go a long way. Taking time to learn more about sites that offer competitive deals on clothing and accessories can be a money-saving way to expand one's wardrobe with the upscale designer styles of today while having a little money left over for tomorrow.
Rodeo Drive Resale (shopRDR.com) has built a reputation of providing amazing deals on handbags, clothing and accessories from the top designers of upscale fashion. The company offers a 100% guarantee of authenticity on each item sold, and works daily with a network of clients looking to buy, sell, or for consignment of their luxury goods. ShopRDR.com loves high-end fashion, and believes finding a high quality, classic piece should be an easy, enjoyable -- and most importantly -- hassle-free shopping experience. For the finest in Louis Vuitton, Chanel, Prada, Gucci, St. John Knits, Christian Louboutin, Tiffany & Co. and more, visit RDR online at http://www.shopRDR.com or call 1-888-697-3725.
Also find shopRDR at:
Facebook: facebook.com/shopRDR
Twitter: twitter.com/shopRDR
YouTube: youtube.com/ shopRDR
Pinterest: pinterest.com/shopRDR
Rodeo Drive Resale (shopRDR.com)
1-888-697-3725
service(at)shopRDR.com