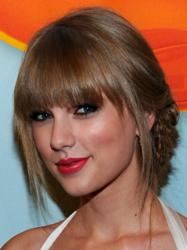 Swift named her new album "Red" because it was all about her past relationships in two years.
Dallas, TX (PRWEB) August 16, 2012
Two years after her last album, Taylor Swift is back with another one. And as shared by newsday.com, it is going to be launched in a less-than-two-months time. Meanwhile, learning that there is going to be another song for her ex-boyfriend in the album, GreenBeanBuddy commented that the country-pop singer is, in a way, showing a pattern.
Based on the said report, Swift will officially release her latest album on October 22nd. And as it detailed, it was entitled Red for a reason that the hitmaker explained during a live chat on Monday.
According to the report, Swift named her new album "Red" because it was all about her past relationships in two years. More specifically, it was all about the emotions she felt in those relationships. And because she saw all of them as red, hence the title.
Additionally, newsday report shared that the said Red album features the singer collaborating with several other artists as British singer Ed Sheeran.
Below is a part of the post " Taylor Swift Wrote Another Song for Another Ex" by GreenBeanBuddy.com.
"It was two years ago since Taylor Swift's last album. And for her fans, that has been too long. However, in a little less than two months, that wait will finally come to an end as it was announced that the singer will soon launch a new album.
Apart from the rumors about her buying a mansion just across the Kennedy compound, where her boyfriend Connor Kennedy lives, Taylor made headline on Tuesday for her another reason. That another reason is basically her latest album called Red. Reports have it that it will be officially released on October 22nd."
Sharing the news about Taylor Swift's new album, entertainment and sports news website GreenBeanBuddy.com said that the music artist was showing a pattern. Particularly, it noted that she was showing a pattern writing about her ex-boyfriends. Nonetheless, if the new song will also be humiliating as John Mayer described her "Dear John", the site stated that is still left to be answered until the mystery ex-boyfriend is named.
Read More of the Latest News in Entertainment and Sports, Check Out GreenBeanBuddy.com.