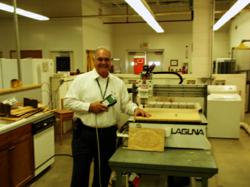 Most importantly, we are not only teaching these young men a valuable new trade, they also learn what it means to take pride in their work.
Irvine, California (PRWEB) August 22, 2012
Learning vocational woodworking skills in prison is credited with leading to a dramatic drop in the recidivism at Ridgeland Correctional Facility, according to Al Tuten, who heads up the prison's Vocational Trade Program.
"We have about 1,300 inmates at the Ridgeland Correctional Facility, and at present, about 30 guys are enrolled in our Vocational Trade Program focusing on woodworking," said Tuten, who estimates that about 1,000 inmates have gone through the two to three-year woodworking program over the last 15 years. "The wonderful news is that the recidivism rate for our graduates is only about 30 to 35 percent, as opposed to around 70 percent among the general prison population."
For Tuten, a Baptist minister who spent 45 years in the construction industry, the last place he expected to wind up was in the State Prison System in South Carolina. Yet, that's exactly where he landed a position helping to reshape the lives of young adult offenders by teaching them to shape wood into useful products.
The first challenge for Tuten was simply trying to find enough wood for his students to work with due budgetary constraints. "I used to dismantle pallets looking for material," he remembered. "One day I was driving through Hunting Island state park and a park ranger was loading up a broken picnic table. I asked who was building them, and told him my guys would be happy to build all of the tables they wanted. After some initial paperwork, our inmates were building beautiful picnic tables for the SC state parks system – all the state had to do was supply the materials. We built hundreds of tables in the next five years, and the state provided us $10 per table in extra materials. That was the financial break that really jumpstarted our program."
For Tuten, the real joy comes in hearing about his students – some of whom are under 21-years-old – obtaining woodworking jobs upon release from jail. "We teach our guys how to frame single dwelling houses and how to make chairs, swings, cabinets, desks, sofa tables – you name it," he said. "The prison staff purchases many of these items, and we also have a yearly sale where the public is invited to take advantage of their wonderful craftsmanship at terrific prices. Most importantly, we are not only teaching these young men a valuable new trade, they also learn what it means to take pride in their work."
The centerpiece of the Vocational Trade Program, in terms of woodworking equipment, is a recently acquired Laguna Tools I.Q. CNC Machine. "I had been lobbying hard to expand my CNC woodworking program by adding another CNC machine to our shop. Having received grant money, I went straight to Laguna Tools in Irvine, California, because I knew they offered state-of-the-art CNC woodworking equipment at very attractive prices," Tuten said. "It's one sweet machine, and my guys love operating it. It's very compact, just 23.5 inches x 24.5 inches cutting area, but it delivers huge performance.
"The Laguna Tools I.Q. CNC woodworking machine is really cutting edge, and I've been very gratified how quickly my students have learned how to use it. And most importantly, I'm able to provide my guys with a tremendous new skill that will make them even more employable upon their release. They are so motivated to have a chance to make something of themselves once they leave prison, that they really give it their all in their vocational experience," he added.
In fact, Tuten says he's had a number of students get very good woodworking jobs right out of prison, because of the skills they've learned in the program.
"I thought that being a preacher was rewarding, but I've found that helping these young men learn a craft that – even if they don't go into a woodworking career – will have a positive and lasting impact on their lives, which is another rewarding aspect of what I do."
For more information about the CNC woodworking equipment used Ridgeland Correctional Facility, and also by woodworking professionals and serious hobbyists, go to http://www.lagunatools.com.