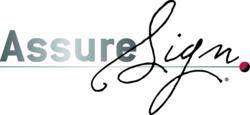 The ability to sign documents without taking it to paper is the natural next step in workflow automation, and AssureSign affords us an innovative, yet simple, way to provide electronic signature functionality to our users.
Orlando, Fla. (PRWEB) August 20, 2012
AssureSign LLC, a leader in electronic signature software, today announced it has entered into a partnership with PaperWise, Inc., providers of document and content management software and technology solutions.
AssureSign and PaperWise have collaborated to bring unique, best of breed solutions to market together with the integration of industry leading electronic signatures into industry leading document and process management software solutions. This comprehensive solution enhances the document process, as AssureSign's e-signature software facilitates complete flow-through processing capabilities.
The partnership between AssureSign and PaperWise gives users the ability to share content electronically, allowing recipients to review, approve, authorize and sign documents, returning the documents to PaperWise applications for further processing, counter-signing and storage. Seamless integration between the solutions will enable users to efficiently and accurately report on document progress through AssureSign's DocumentTRAK™ API.
AssureSign can be installed on premise for larger clients or as a Software-as-a-Service (SaaS) offering, as well as hosted on Windows Azure, and provides PaperWise users with easy customization and branding options, to maintain the PaperWise and/or end user brand. Additionally, as the only e-signature vendor with enterprise-wide SSAE-16 (formerly SAS-70) Type II certification, AssureSign is the most reliable and compliant electronic signature software provider, supporting multiple channels, including consumer self-service portals and mobile applications.
The initial joint AssureSign and PaperWise customer, Capitol Appraisal, a full-service appraisal firm located in Austin TX, implemented the integrated solution to streamline document processing through workflow automation. Capitol Appraisal's document processing requires signatures from their Appraisers, as well as independent Agents working in the field. As both signatures were needed, documents were sent back and forth via fax or physical mail. This process was untimely and costly. Utilizing the integration with AssureSign and PaperWise, both Agents and Appraisers can work from separate locations, signing documents as needed or required per their internal workflow. This will eliminate overhead costs in paper and printing, all the while saving time and minimizing errors.
As affirmation of this partnership, AssureSign and PaperWise will present their integrated solution at TENCon 2012, the flagship annual conference for insurance professionals who use Applied Systems agency and broker management software. Show attendees that visit PaperWise Booth #613 in the exhibit hall will learn how AssureSign's unique signature process can replicate any pen-and-paper signing workflow, keeping the entire transaction electronic and producing signatures that look like a traditional pen-based signature or typed, certified signature. In an all-electronic process, users recognize significant cost savings and operational efficiencies by using this integrated solution.
"Our goal is to provide a high caliber solution to our clients," said Dan Langhofer, President and CEO of PaperWise. "The ability to sign documents without taking it to paper is a function that has become increasingly important to our clients. It's the natural next step in workflow automation, and AssureSign affords us an innovative, yet simple, way to provide electronic signature functionality to our users."
"The true benefits of AssureSign electronic signature applications are recognized when they are deeply integrated with existing business applications, such as PaperWise Document Management and ECM solutions," said David W. Brinkman, president and chief executive officer of AssureSign LLC. "This integration allows for document creators to automatically create documents from within existing applications, triggering front- and back-end workflow, so the entire process saves the organization both time and money, as well as creating a streamlined and simple customer experience."
About AssureSign LLC
AssureSign LLC is a Silver Depth Managed Microsoft Partner and a leading provider of web-based and on-premise electronic signature software, enabling users to obtain both written and verbal authorizations. AssureSign provides the most integrated and feature-rich APIs available and features a unique, patent-pending technology allowing for the execution of any document with forensically identifiable, biometric signatures or typed 'certified' signatures. AssureSign is a highly secure and flexible "cloud computing" application, and the only e-signature provider with a four year track record of providing customers with 99.99% uptime in a multi-site data center with SSAE 16 (formerly SAS 70) Type II certification extending to all aspects of the enterprise. Using the standards-based DocumentNOW® and DocumentTRAK™ integration tools, AssureSign can easily integrate with existing business processes within any enterprise, regardless of size. AssureSign's experience extends over 11 years and comprises more than 150 million unique signature events. AssureSign customers consistently experience dramatic cost savings, as well as significant reduction in the time to execute documents. For more information visit http://www.assuresign.com or follow AssureSign on Twitter at twitter.com/assuresign.
About PaperWise
PaperWise is a global document and process management software company that empowers organizations to innovate and streamline their business operation by simplifying workflow procedures and connecting line of business (LOB) systems. Through the use of business analysis and enterprise content management (ECM) technology, PaperWise is committed to supporting the needs of a range of businesses with customizable and scalable solutions. Focused to empower and transform organizations across insurance, healthcare, and logistics, the PaperWise team delivers electronic solutions to optimize efficiency in daily operations. For more information on PaperWise solutions and products, visit http://www.PaperWise.com.