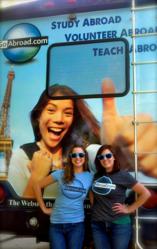 Follow the GoAbroad Roadshow around the country, and make meaningful travel a part of your life!
Fort Collins, CO (PRWEB) August 20, 2012
As the leading online resource for meaningful travel, GoAbroad.com is always looking for new ways to bring resources and advice direct to travelers, and the team is excited to officially launch the GoAbroad Roadshow.
The Roadshow will take place over the next two and a half months, in which GoAbroad Ambassadors will visit university campuses and international education fairs across the nation. With the fall semester just beginning, there is no better time to be thinking about going abroad, and students will benefit from these visits in more ways than one.
Whether students are interested in studying abroad, volunteering abroad, interning abroad, or other types of meaningful travel opportunities, GoAbroad Ambassadors will be there to answer questions and give helpful tips related to international travel. In addition to GoAbroad's comprehensive directories, the site also provides extensive additional information within dynamically constructed travel guides, a currency converter, and embassy directories. The GoAbroad Roadshow will bring these resources and more right to students' fingertips.
As the Roadshow makes its way across the United States and Canada, GoAbroad will continually share details related to each of the places where GoAbroad Ambassadors make an appearance.
Click here to see where the GoAbroad Roadshow will be stopping and connect with GoAbroad's Facebook and Twitter communities to stay up to date with every appearance!
About GoAbroad.com
GoAbroad.com has been the web's premier resource for meaningful international experiences and alternative travel opportunities for more than a decade. The site boasts the largest and most comprehensive travel directories available online, while providing the most up-to-date and accurate information on programs available worldwide. GoAbroad.com's GoMedia services also offer a distinct range of internet marketing solutions for international education, including website design and comprehensive social media management.