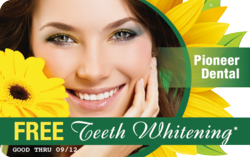 On average, the Viva system can bring patient-acquisition costs down below $60 per patient. Typically, dentists will pay anywhere between $150 and $350 per patient depending on the size of their practice.
Atlanta, GA (PRWEB) August 18, 2012
Whiter Image Dental (WID), a manufacturer, supplier, and marketer of tooth whitening products, is pleased to announce it is partnering with the Viva referral system, which utilizes a trackable incentive card to promote branding and tremendously increase patient referrals.
Whiter Image Dental's founding partner, Keith Rodbell, said, "The Viva referral system is essentially word-of-mouth advertising on steroids! The system has facilitated patient retention and increased new patients for a large number of dental practices throughout North America. The Viva system stands out as a marketing tool because satisfied, repeat customers are one of the best sources for increasing dentists' patient base. Dentists know that potential patients are influenced by a trusted recommendation when they are seeking dental care. A referral can easily bring patients of the highest quality through the door and into the chair."
The Viva referral system distinguishes itself from run-of-the-mill referral programs, which typically involve mailing traditional postcards with incentive offers. Although the traditional mailings achieve results, the postcards are often discarded. In contrast, dentists using the Viva system, can customize a clear, small, high quality recyclable plastic card that provides a free or significantly discounted offer that new patients will not want to miss. The benefit to the practice is the much lower patient-acquisition costs than traditional methods. On average, the Viva system can bring patient-acquisition costs down below $60 per patient. Typically, dentists will pay anywhere between $150 and $350 per patient depending on the size of their practice.
Viva will train your team members with an online e-course. You team members will learn appropriate body and verbal language, so that they distribute cards with positive results. The entire office staff will be comfortable distributing the cards to patients and can easily identify marketing opportunities, such as giving cards out for birthdays or tokens of appreciation. Additionally, your team members can receive incentives for distributing the cards. The door is also open for the dentist to utilize the cards with any business associations, community groups or charity campaigns.
Your team members will also learn how to use the cards to revive your patient-dentist relationship with past clients. The Viva referral cards are cost-efficient and effective for enticing former patients to schedule appointments and services.
Keith Rodbell also stated, "Dentists can set the promotion they choose to the Viva card, thus customizing it to their practice. For example, the cards can offer a free tooth, service and exam or give a significant discount on a service of the patient's choice. Dentists should select a promotion that will encourage potential patients to schedule appointments."
The Viva card program effectively increases your patient base for many reasons. The cards promote urgency to make an appointment because they have a three month expiration date. Card holders enter an activation card, and your office contacts them within 24 hours to book an appointment. A dashboard tracks the program, so you can evaluate its success, the number of new patients and identify the staff member responsible for each new patient. Trackable ROI is one of the key components that make the Viva system a proven success.
WID also offers complimentary marketing consultants who help dentists increase their profits with our many whitening pens, kits and promotional tooth whiteners. We provide marketing assistance via social media, tooth whitening promotional products, literature and staff scripts. Our partnership with Viva Referral is another way we are increasing the marketing efficiency and profits of dentists. Contact a marketing specialist at info(at)whiterimagedental(dot)com or dial 1-877-944-8330 to discuss your needs and find out additional information about our exciting, new partnership with the Viva program. You can also see a video of how the system works at http://www.getgreatpatients.com.