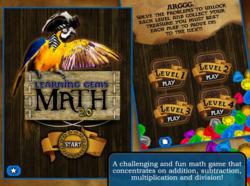 Portage, MI (PRWEB) August 16, 2012
A new educational app from Learning Gems, Math 2.0, has been launched that helps elementary-aged students practice and improve their math skills while having fun playing this pirate-themed game.
Math 2.0 features both single-digit and double-digit math problems that require addition, subtraction, multiplication and division. Levels are displayed as four pirate maps in this new app. These different levels allow participants to practice math as treasure hunters. Each level features twelve rounds of game play during which math problems are displayed at the bottom of the screen with possible answers spinning around on gemstones. And with 10,500 different problems, questions are not repeated until each one has already been displayed. To progress to the next pirate map, which builds on the skills required for the previous one, four out of five, or 80 percent, of the pirate coins must be collected. When a world is completed 100 percent, a chest packed with treasure is opened.
As levels progress, so does the difficulty of the questions. Level one features only addition questions. Level two, adding onto level one, asks both addition and subtraction questions. Even harder, level three incorporates addition, subtraction and multiplication. Then, level four, the toughest level yet, asks addition, subtraction, multiplication and division questions.
Math 2.0 can be purchased in the Apple and Amazon Kindle app stores and also from Google Play.
This new educational app was created by Portage, Mich.-based Learning Gems, which is a unique team of individuals that is made up of copywriters, graphic designers, programmers and school teachers. This eclectic mix strives to make learning fun through creating entertaining apps for children that have educational value.
Learning Gems is a division of Blue Fire Media. This company is also based out of Portage, Mich. and specializes in web development and design, web marketing and SEO.