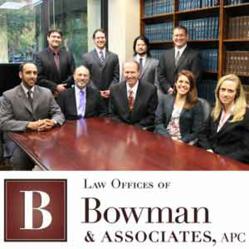 When enough is enough!
Sacramento, California (PRWEB) August 17, 2012
A study by the National Center for Family and Marriage Research shows that over the last four decades, there has been more than a threefold percentage increase in the proportion of Americans who are currently divorced, rising from 2.9% in 1970 to 10.7% in 2008. Despite this growing proportion, research suggests that among married couples, the divorce rate—which peaked in the late 70s at about 23 divorced per 1,000—has declined over the past 25 years.
With the recent downturn in the economy, more and more couples are filing for divorce as they become financially strained. A peaceful divorce is always preferred. However, when tempers rise and your spouse starts making threats it's time to seek help. "When enough is enough!" said Sacramento family law attorney Robert Bowman Jr. from The Law Offices of Bowman and Associates, APC. The experienced divorce attorneys of Bowman & Associates help clients across California from their offices in Sacramento and Folsom.
Things that will need to be considered in a divorce include:

Real Estate and other property division
Who will incur the different debts
Alimony
Parenting duties
Child support
Many more...
"Too often one parent will make a false allegation against the other parent, attempting to sway the judge to grant them more time with the child," said the experienced Sacramento child custody attorney Robert Bowman Jr. from the Law Offices of Bowman and Associates, APC. "Allegations include physical abuse, emotional abuse, and mental abuse. And those allegations could be devastating, not only on the accused parents, but on the children and the ongoing relationship of children."
A litigated divorce is applicable in many different circumstances. Often times a spouse will either hide assets, try to threaten you, be abusive, or is overly domineering. Also a spouse may be abusing drugs or alcohol. "Family code that says that if a parent brings false accusations, you can go to court and ask for sanctions against the other parent, in the form financial or custodial retribution. A lot of attorneys call this the 'Atom Bomb' of custody." said California family law attorney Robert Bowman Jr. from the Law Offices of Bowman and Associates, APC. "Abuse is at the backbone of 90% of divorce; not just physical, but alcohol abuse, drug abuse and mental abuse."
Divorce is one aspect of family law where almost everyone needs a family law attorney. Very few people ever "want" a divorce, although that's often what is said by one spouse to the other. Circumstances may make a person feel they have little choice but to obtain a divorce if they want to change their life or the lives of their children for the better. Consultation with a Sacramento Divorce Lawyer can help you decide whether or not divorce is the best decision for your family.
The most important issue in any divorce involving children is the care, custody, and control of those children after the divorce is over, and what type of contact the children will have with the parent with whom the children do not primarily reside. Children are society's greatest future resource, and this is why California's Family Code uses the term "conservator" for the people who have custodial and/or possessory rights to a child. Child custody, if disputed between parents, is possibly the most difficult issues in many divorces. Child support is almost always owed by the person who does not have primary conservator ship to the person that does have primary conservator ship, but there are exceptions. If you are looking for legal assistance with your divorce, contact an experienced Sacramento divorce attorney at The Law Office of Bowman and Associates, APC. for your free initial consultation today.