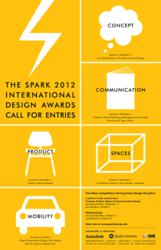 New York, NY (PRWEB) August 21, 2012
Designers are determined to prove their design makes a difference, said management of the Spark Design and Architecture Awards. "We see that proof coming into Spark on a daily basis," said Spark Founder, Peter Kuchnicki. "See for yourself—the Spark Galleries display hundreds of works that stretch your imagination and stir your creative juices. Lots of inspired designers are taking this Call For Entry very seriously." Entrant firms include Whipsaw, Target, Herman Miller, Delta, Casemate, Ecco, LUNAR, Phiaton and PDT among others, and many prestigious design schools.
First Major Spark Deadline Few Weeks Away
Organizers report that the Spark Standard Deadline is September 17. "By this point, holidays have ended, designing companies are in fighting spirit and many are focused on winning a Spark," said Claire Wolf, the Spark Jury Manager. "Judging from early entrants, we're seeing a tough competition developing," she said. "Some sub-categories, like earphones and headsets, are super-competitive with very compelling designs."
Spark Reaches Out To New Design Talent
"We have our biggest marketing effort of the year underway," said Kuchnicki. Guided and designed by famous brand developer, Kit Hinrichs of Studio Hinrichs, Spark has launched a fresh new digital and direct mail campaign. The goal is to encourage new designers to take the Spark challenge to create "design that makes a difference." As Wolf stated, "We ask designers to send us their best, world-changing designs. If it Sparks, we'll tell the world!"
Deep Background
Five new competitions are currently inviting entries, including the Spark:Communication Design Awards, Spark:Product Design Awards, Spark:Mobility Design Awards, Spark:Spaces Design Awards and Spark:Concept Design Awards, each covering specific creative disciplines. They will be followed by the All:Spark Awards in January, an exclusive competition solely for the winners of the previous five competitions. The All:Sparks Jury will be Chaired by Arnold Wassernan of Collective Invention.
2012 Competition—Winners In Next SparkBook
Five competitions are now open for entries. The winners of the 2012 Spark:Concept Awards, Spark:Communication Awards, Spark:Product Awards, Spark:Spaces Awards and the Spark:Mobility Awards will become the stars of the next Spark Annual, to be published in 2013. Designers may enter these competitions after registration. Event organizers have created a website to facilitate this process, at https://competitions.sparkawards.com/.
More information about this organization and these competitions can be found at the Spark website landing page at http://www.sparkawards.com
.................................................................................
Bonus Info: Spark Jury Alumni
Each year Spark is honored to present another fresh group of very talented judges. A new bench of jurors are gathered with the help of our Jury Chairs, Advisers and Community members. The Jurors come from across the spectrum of design disciplines, media, educators and experts.
2011 Jury
Andreas Harlow, Design Director, NIKE, Portland
David Mocarski, Chair, Environmental Design, Art Center College, Pasadena
Gadi Amit, President, New Deal Design, SF
Dan Harden, President, Whipsaw, San Jose
Cathy Huang, President, China Bridge, Shanghai
Imre Molnar, Dean, College for Creative Studies, Detroit
James Parr, Innovation Director, Imaginals, Ltd. London
Stanley Saitowitz, Design Principal, Natoma Architects, SF
John Skidgel, UX Designer, YouTube / Google Inc., Mountain View
Leslie Speer. Associate Professor, Art & Design, San Jose State University
Michael Cronan, Principal, Cronan, SF
Charlie Sheldon, Design Director, Link Studios, SF
2010 Jury
Executive Jury Co-Chair, Chee Pearlman, President, Chee Company, NYC
Michael Vanderbyl, Executive Jury Co-Chair, Principal, Vanderbyl Design, SF
John Barratt, CEO, Teague, Seattle
Sally Dominguez, Partner, B. Architecture and Rain Water Hog, Melbourne & SF
Rob Curedale, Principle, Curedale Design, Santa Monica
Adam Brodsley, Partner, Volume Design, SF
Thom Faulders, Faulders Studio Architects, SF
Tucker Viemeister, Director of Special Projects, Ralph Applebaum Associates, NYC
Gaby Brink, Principal, Tommorowpartners, SF
Scott Stropkay, Co-Founder, Essential Design, Boston
Ken Musgrave, Director, Experience Design, Dell Computers, Austin
Heather Fleming, CEO, Catapult Design, SF
Margaret Gould Stewart, User Experience Manager, YouTube, Mountainview
Kerry Tremain, Editorial Director, Wild Blue Studios, Monterey
Susan Rockrise, Identity Consultant, Susan Rockrise + Associates, West Marin
Bryant Yeh, Principal, Yeh Studio Architects, Honolulu & LA
Peter Strathis, Virtual Studios, SF
2009 Jury
Executive Jury Chair, Chee Pearlman, President, Chee Company, NYC
David Albertson, Principal, Albertson Design, SF
David Darling, Partner, Aidlin Darling Design, SF
D. Philip Haine, Principal, Product Vision Associates, SF
Rich Gioscia, Director of Design, HP Palm GBU, Palo Alto
Cory Grosser, Principal, cory grosser design, LA
Tong Huiming, Dean, College of Innovation & Design, Guangzhou Academy of Fine Arts
Nathan Shedroff, Chair of Design Strategy MBA, California College of Arts, SF
Neil Robinson, Chief Creative Directer, AKQA, SF
Sara Beckman, Hass School of Business, UC Berkeley
Beatrice Santiccioli, Principal, beatrice santiccioli design
Neil Robinson, Group Creative Director, AKQA SF
Cameron Sinclair, Executive Director & Co-Founder, Architecture For Humanity
2008 Jury
Executive Jury Chairman, Kit Hinrichs, Studio Hinrichs, SF
Marc Gobe, Principal, Emotional Branding, NYC
Tania Aldous, Former Director, Global Design, Whirlpool, Benton Harbor
Tom Dair, President, Smart Design, SF
Josh Morenstein, Design Director, Fuse Project, SF
Ted Howes, Design Director, IDEO, Palo Alto
Tim Culvahouse, Principle, Culvahouse Architects, SF
Jennifer Bostic, Creative Director, Paperplane Studio, NYC
Mark Davis, Director of User Experience, Autodesk, SF
Margeigh Novotny, Microsoft, Seattle
David Meckle, Director Research & Planning, California College Arts, SF
Tom Matano, Dean of Industrial Design, Academy of Art, SF
Manuel Saez, Principle, Manuel Saez Design, NYC
Brent Oppenheimer, Principle, OH+Co, NYC
2007 Jury
Executive Jury Chairman, Kit Hinrichs, Studio Hinrichs Design, SF
Sean Adams, AdamsMorioka, LA
Nick Oakley, Sr Industrial Designer, Intel Mobility Group, Portland
Robert Cumberford, Design Editor, Automobile Magazine, Marseilles
Robert Hale, Principal, Rios Clementi Hale, LA
Jay Baldwin, California College of Arts, SF
Michael Kirchmann, SOM, NYC
Steve Simpson, Partner & CD, Goodby, Silverstein & Partners, SF
Ken Cook, Sr VP, Wdwd CD, Brand Integration, Publicis/Hal Riney, SF
Drew Takahashi, Funjacket, San Mateo