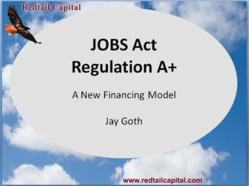 Temecula, CA (PRWEB) August 17, 2012
An upcoming investor conference focused on emerging growth and microcap companies will be held on August 18th, 2012 at the Knobbe Martens offices in Irvine, California. Jay Goth, a principal at Redtail Capital, will be discussing the new JOBS Act, specifically the changes to Regulation A that allows businesses to more readily obtain investment capital and a new procedure that reduces restricitions to IPOs.
The conference will feature presentations from at least six early stage companies currently looking for capital resources and is open only to invited guests that include investment bankers and accredited investors who are looking for early stage investment opportunities.
"Crowdfunding is becoming a hot topic," according to Mr. Goth. "but I think we will find that for many early stage businesses, the Regulation A and Emerging Growth Companies aspect of the JOBS Act will have more impact on our economy and job creation than any other part of the legislation."
Regulation A is an infrequently used exemption that small businesses can utilize to obtain capital from outside investors. The new legislation has increased the amount of money that can be raised under this structure from $5 million per year to $50 million per year. In addition, the creation of an "IPO On-Ramp" allows companies with less than $1 billion in revenues that are considering offering their shares to the public through an IPO several advantages over the traditional IPO route, including confidential initial filing with the SEC, a "testing the waters" opportunity, and more.
"The current rules are being developed by the SEC," stated Mr. Goth. "We have yet to see what the actual rules of the game will be, but the parameters have been set by the legislation. I plan to provide an overview of the legislation as it stands and open up the discussion to the pros and cons of these new funding vehicles."
Accredited investors, investment bankers, institutional investors and broker dealers who are interested in attending the event are encouraged to contact iCFO Capital at (619) 502-9388, as there is limited seating available.
About Redtail Capital
Redtail Capital is a business advisory practice that assists companies with strategic planning, capital formation, valuations, and merger and acquisitions. The company's primary focus is on issues that affect everyone today, including energy, water, defense and technology. Located in Temecula, California, the company enjoys close proximity to Los Angeles, San Diego, Orange County and the Inland Empire. Securities offered through Independent Investment Bankers Corp. a broker-dealer, Member FINRA/SIPC. Redtail Capital is not affiliated with Independent Investment Bankers Corp. For more information, visit http://www.redtailcapital.com.
About iCFO Capital
iCFO Capital provides value to its clients through a variety of tools, including Investment Conference series, Business Plan / Investment packaging, and Interim CFO consulting. Due to the strategic relationships that have been developed by iCFO Capital founding management, clients have the unique opportunity to network with a wide range of accredited Investors such as high net-worth Individuals, VC firms, private equity funds, non-profit foundations, and top investment entities. For more information, visit http://www.icfocapital.com.